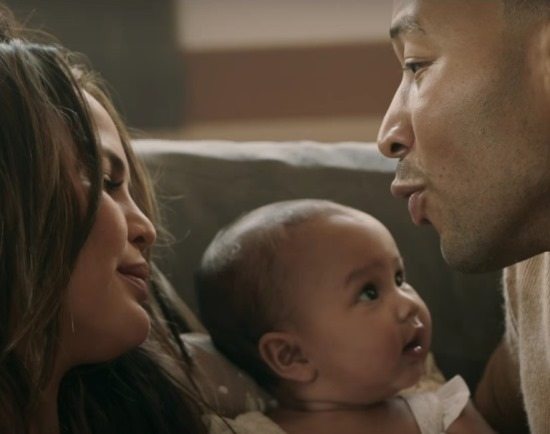 John Legend's forthcoming project Darkness and Light promises to be one of his best yet. And while we're still a few weeks away from its official release, he's getting some pretty good traction from lead single "Love Me Now." The audio premiere was further enhanced by an endearing lyric video. But the new visuals have morphed the track from a lively pop ballad into an anthem of hope.
Directed by Nabil Elderkin, the powerful clip is set against a backdrop of tradedy, suffering and injustice. The camera takes us to the Domiz Reugee Camp in Northern Iraq, the Pulse Nightclub in Orlando, FL, storm-battered Puerto Plata and Standing Rock Reservation in North Dakota. While each location displays a different set of circumstances, the common thread of love can be felt throughout each scene, bringing hope and inspiration in the midst of everyday struggle.
Via press statement, Elderkin explains, "This video shows how love can be shared in some of the most difficult situations on Earth in which the human spirit and connection with each other prevails. From one of the longest standing refugee camps in northern Iraq just 45 miles outside of Mosul, to Standing Rock Reservation where they are fighting against the Dakota Access Pipeline that threatens their sacred lands and all of our water, it is a glimpse into these couples' lives and the lives of those in their communities."
The video also shares some intimate and heartwarming moments with the Legend family (John, wife Chrissy Teigen and daughter Luna). Can we talk about adorable Miss Luna for a second? As her parents showered her with love, the joy and sweetness of this little angel gave us all the feels. All. Of. Them. But a recent Instagram post by the artist gave added depth to the touching display:
We didn't think about the election when we planned the release date for this song and video. But in this time of conflict and uncertainty, it's clear that we all need more love. I find it in my family and in my music. Embracing my family has made today full of love and light despite the bad news. But it's also important that we show love and empathy to people who may not look like us or live like us. Those who are marginalized and rejected, feared and left behind....Love is universal. We all need it. We all can give it. And it will ultimately win over hate. I have to believe that.
John will be spreading the love with a live performance at the upcoming American Music Awards this Sunday, November 20th. In the meantime, watch the inspirational video below and join the love movement by posting a photo with your loved one(s) with the #lovemenow hashtag. Darkness and Light is currently available for pre-order ahead of its December 2nd release date.
- Advertisement -