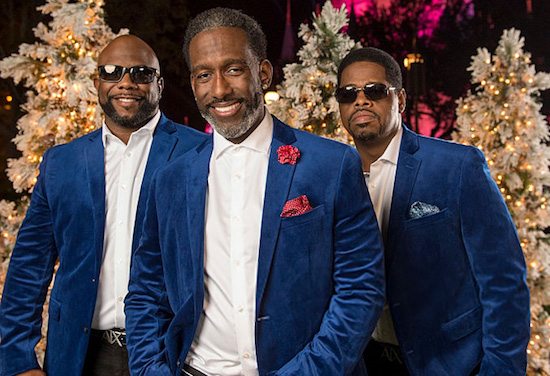 There are certain songs that officially signal that the holiday season has arrived. It could be the night before Christmas, but until Donny Hathaway's "This Christmas," The Temptations' "Silent Night" or The Jackson 5's "Santa Claus is Coming to Town" is heard, it might as well be just another day. Boyz II Men joined the exclusive ranks of the Keepers of the Holiday Spirit with their now-iconic single "Let It Snow" from 1993's Christmas Interpretations album. Now the guys are back and hoping there's room for one song more on your holiday season playlist with their latest, "Snowy Day."
Featuring members Nathan Morris, Shawn Stockman and Wanya Morris, "Snowy Day" is an a cappella fan's dream come true as the trio's voices intertwine with one another. They effortlessly prove that vocally, they haven't missed a step over the course of their 25-year career. The song instantly conjures up images of a chilly night made warm when paid a visit by Christmas carolers. While the single version features nothing more than the voices of the group, an animated video version has the guys singing over a polished studio track. With voices as rich as Boyz II Men have, the music only serves as a distraction.
The song is the first single taken from Amazon Studios' upcoming holiday special based on the classic children's book of the same name by Ezra Jack Keats. The animated special will tell the story of a boy named Peter and the adventures he encounters on a trip to his Nana's house. The special, which was released November 25th on Amazon Prime Video, is narrated by Laurence Fishburne and features the voices of Regina King and Angela Bassett.
Listen below to see if "Snowy Day" puts you in the holiday spirit. And if you're looking for a little family fun to enjoy with loved ones, be sure to check out the 38-minute animated special The Snowy Day on Amazon Prime Video.