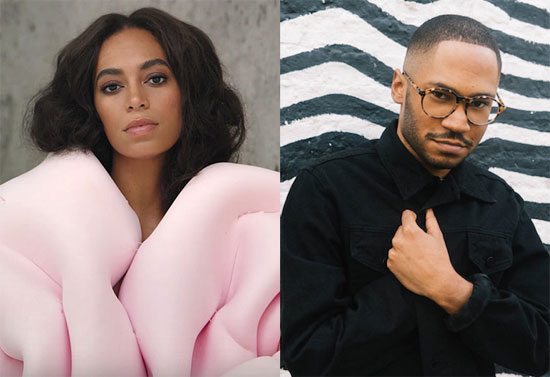 We've spent the past couple of weeks aurally immersed in Solange's masterwork A Seat at the Table. In addition to being critically praised around the world, the release even garnered the singer her first number one album on the Billboard 200 chart and a place in the history books with her sister. She and Beyoncé are the first pair of solo sisters to have number one albums  -- and in the same year at that. Whether you prefer the empowering defiance of tracks like "Don't Touch My Hair" and "F.U.B.U," or the poignant harmonies of tracks like "Weary" and "Scales," we can all agree that "Cranes In the Sky" is perfection. Complimented by stunning visuals that paired #BlackGirlMagic with scenic landscapes, the song's transparent lyrics and ethereal beauty continue to resonate. So we expected a remix (or several) to drop.
Thankfully, our boy Kaytranada wasted no time and gave the song the treatment it deserves. Originally debuted earlier this month during a set at New York City's Terminal 5, the Canadian beatsmith crafts an inescapable jam thanks to a bombastic four-on-the-floor rhythm, additional percussion and a groovy bass line. In Kaytra's own words:
I couldn't help it and i can't deny how good it sounds. this is just an edit to play on my dj sets, and i played it once and everybody wanted it right away. Honestly i was gonna wait to see if Solange or her team or whoever works for her wouldve ask me to do an offical remix so if they still want to, i could make it sound better than that version but ohhhhh, what the hell....anyways i highly recommend you that new Solange album "A Seat At The Table".
We can't imagine how he could possibly make it sound better, but here's hoping that Solange ("or her team or whoever...") reaches out and allows him to show and prove. In the meantime, listen to Kaytranada's edit below and download a copy while it's still free. You can hear him spin this and other remixes (like the ones from his 0.001% mixtape), not to mention his own originals from 99.9%, on his current tour.
In addition to the remix, if you're looking for another way to enjoy A Seat at the Table, keep scrolling down to view the Charlotte Hornsby-directed mini-documentary A Seat at the Table, Beginning Stages. Filmed between Long Island, New Orleans and New Iberia, the film shows "the early days of Solange's songwriting, jam sessions, experimentation, collaboration, and the exploring of sounds and ideas for the album," dating back to 2013.
- Advertisement -