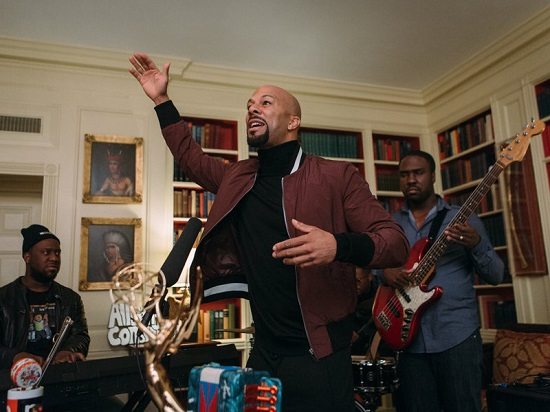 Come January, there's a good chance we'll be inconsolable as they vacate the White House and make room for whoever will be the next POTUS (which, Lord willing, will not be the talking cheese puff known as Donald Trump). We'll miss the Obama's for many reasons, but perhaps none as strong as what they've done to make music — especially Black music — more visible during President Barack Obama's two terms as Commander-In-Chief. The latest musical event to take place at the White House was South By South Lawn, a music festival of sorts celebrating "ideas, art and action." In honor of that, NPR Music's Tiny Desk concert series took its show to 1600 Pennsylvania Avenue and brought Common along to perform a classic and a few new tracks from his upcoming album, Black America Again.
Common didn't come to the White House alone, though. Joining him in the White House Library were his friends and peers Robert Glasper, Derrick Hodge, Karriem Riggins, Elena Pinderhughes and singer Bilal to help him through his four-song set. He opened with a jazzy, mellow take on his breakout signature hit "I Used To Love H.E.R." After the walk down memory lane, he treated the audience with a couple of exclusives, "Letter To the Free" (which will be included in Ava DuVernay's upcoming Netflix doc 13th), "The Day the Women Took Over" (which is dedicated to the Black women out there and features a beautiful chorus from Bilal) and "Little Chicago Boy" (a touching track dedicated to the memory of Com's father, Lonnie "Pops" Lynn). Each of the new tracks featured Com's signature witty wordplay, which was only elevated by the skilled musicianship of his featured players.
After watching this, we're quite anxious to hear what Black America Again will sound like. Check out Common's 20-minute Tiny Desk Concert below and listen to the other two songs we've heard from the album, "Love Star" and "Black America Again."