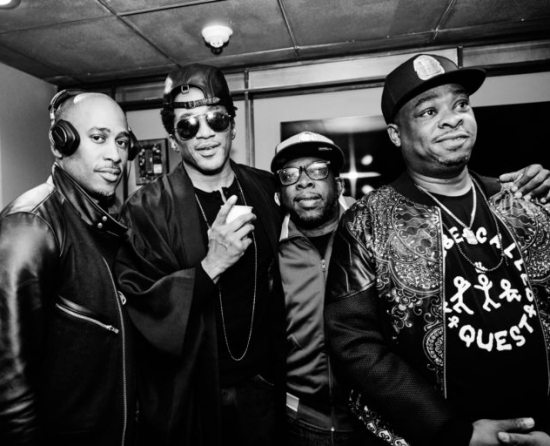 Fans of A Tribe Called Quest were dealt a heavy blow earlier this year with the passing of founding member Malik "Phife Dawg" Taylor. The blow, while still devastating, was tempered slightly when it was revealed by record executive L.A. Reid that Tribe would be releasing a new album in the near future. Not only that, but the album would also feature new material from all the original members, including Phife and oft-forgotten fourth member Jarobi White. Now Q-Tip has not only confirmed that an album is coming, he's also given us a release date and some new info about what can expect.
Taking to various social media channels last night, Q-Tip posted a handwritten letter cluing us in on what to expect. "Last year this time myself, Jarobi, Ali and PHIFE had the extreme pleasure of performing on The Tonight Show," the letter begins. "It was our 1st T.V. performance in 18 years."
From there, Tip goes on to describe the feeling that all the members got after their set was done and how it inspired them to reunite in the studio and "start that cookup!!" He then lets us know that the whole Tribe crew, including Consequence and honorary Tribesman Busta Rhymes, will contribute to the record and that there won't be any recycled Phife verses, as we'll be getting "that pure, unstepped on pure" as far the dearly departed MC is concerned.
While all of that is enough to make any backpacker praise hip-hop Jesus, what Tip wrote next was enough to fill us with utter joy: "And on November 11th, 2016 we will complete our paths of rhythm...JOIN US!"
Yes, you read that right, we will have new Tribe in less than a month! As well, Billboard is reporting that the group will also be taking the stage on Saturday Night Live on November 12th for a performance with an unannounced special guest and we could be getting the first single, "We Are The People," as soon as today (October 28th).
Are you folks ready for ATCQ's last hurrah? Get yourself prepared after reading Q-Tip's letter in full below.
- Advertisement -