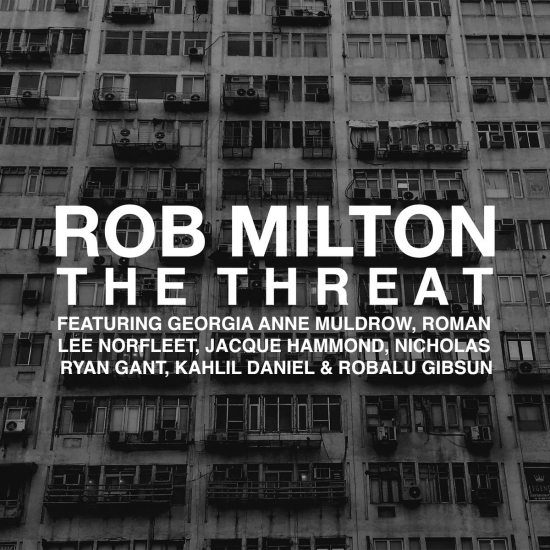 We've always got love for our SoulBounce fam, especially when they continue to do big things. You might say that SoulBounce alum Rob Milton is doing just that, if you consider working with the prolific, multi-talented singer/songwriter/producer Georgia Anne Muldrow and a multitude of talented singers and artists big things. Rob has gathered his who's who crew — consisting of Georgia, Roman Lee Norfleet, Jacque Hammond, Nicholas Ryan Gant, Kahlil Daniel and Robalu Gibsun — for his latest single "The Threat," which joins the list of songs tackling the volatile racial climate which, unfortunately, continues to grow with each passing day.
Georgia once again delivers an original, funk-filled beat that bounces along with the feel of an old-school soul track. Rob kicks things off, ruminating about his place as a musician in times of civil unrest while the powers that be are "poisoning our water, killing our sons and daughters." The rest of the bunch chime in on this theme, offering narratives of struggle and survival in the face of adversity and hope for the future. It's all topped off with a inspiring bit of spoken word from Robalu Gibsun as the bouncy groove switches to solemn piano to provide the coda.
Of the collaborative effort, Rob said, "There's so much happening in the world and while we are all [affected] by it, we're all expected to go on about our lives. While we are watching our brothers and sisters get murdered by the police and our family members struggle from the side effects of having their water supply poisoned, we still have to work and pay our bills. This song is detailing how it feels from the perspective of a creative who is already struggling to survive and then also dealing with these unfortunate circumstances."
You can stream "The Threat" below and purchase the single now via Bandcamp. Also be on the lookout, as Rob is promising more to come in the near future.