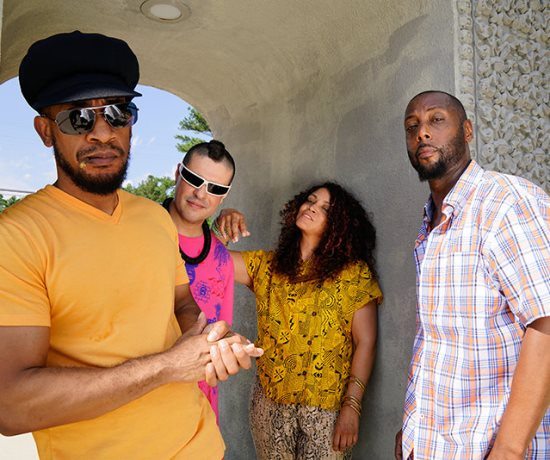 The Rio 2016 Olympics officially wrapped this past weekend with grandiose closing ceremony that celebrated its multi-cultural representatives. And though Team USA came out on top with a record-breaking medal count -- buoyed by a dazzling display of #BlackGirlMagic that made us ever-so-proud (come through, sistahs!!) -- the actions of a privileged few didn't allow us to leave the Summer Games wholly unblemished.
Thankfully, this doesn't put a damper on other Brazilian-American relationships that are going well. Take BROOKZILL!, the hip-hop supergroup consisting of Prince Paul, Ladybug Mecca, Rodrigo Brandão (aka Gorila Urbano) and Don Newkirk, for example. Their album debut Throwback To The Future is still over a month away, but the quartet has been gaining considerable buzz during the summer months. For starters, the lineup alone is noteworthy: DJ/producer Prince Paul is a hip-hop icon who made a name for himself as an original member of Stetsasonic and producer of De La Soul's smash debut (and two subsequent follow-ups); Ladybug Mecca helped define a new era of alternative hip-hop as a member of GRAMMY-winning group Digable Planets; Rodrigo Brandão is a respected Brazilian MC who hosted the country's version of Yo! MTV Raps and was a member of local iconic group Mamelo Sound System; and musician/producer Don Newkirk has collaborated with Prince Paul on multiple projects over the course of 30 years (De La Soul, 3rd Bass, The Dix), in addition to voice-over work and soundtrack contributions.
The concept bloomed from a seed planted 10 years ago when Prince Paul journeyed to São Paulo in search of a new cultural experience as a DJ. While there, he was introduced to Rodrigo (through longtime engineer Scotty Hard) and felt a musical connection between the cultures. Paul recounts, "Once I got to spinning down there and meeting the people, it was just a throwback to people really enjoying music for what it is..." He continues,"I saw very early on the connection between break-beats and what they play here in the tambor drums at the Candomblé ceremonies. The music that is played during those spiritual rituals...this is Hip-Hop before drum machines...this is my thing; this is what I can add to this whole landscape. It's the connection between the Afro-Brazilian experience and Hip-Hop." From there, the two artists vowed to collaborate on an album.
Some time later, Rodrigo came to the U.S. loaded with Brazilian samples and ready to get to work. He visited Paul at his studio in New York where the two began experimenting with beats and sounds. As the sound continued to develop, a critical piece fell into place with the addition of Ladybug Mecca (who previously worked with Paul on his Dino 5 project for Baby Loves Hip Hop). As the daughter of two Brazilian jazz musicians, the Brooklyn native embodies the best of both worlds, literally bridging the cultural gap with her heritage and artistry. "It just flowed so nicely," she explains. "Me being of Brazilian descent and first-language Portuguese, it has always influenced my cadence when I rhyme. It was important to explore deeper and actually rhyme in Portuguese, sing in Portuguese, and be able to go back and get immersed with my roots during the writing process."
Finally, after recording some early sessions, Paul brought in long-time collaborator Newkirk to see if he could enhance the arrangements. Don felt an instant connection with the music and took on a more creative role, polishing and refining the group's sound into a cohesive masterstroke. "Newkirk blows your mind," Paul boasts. He puts in stuff that I wouldn't even think of...It's those nuances that give it that flavor. Without it, it would sound like a straight up Hip-Hop record."
Ready to share their "Brooklyn meets Brazil" sound with the masses, the collective has taken a unique approach to the album rollout. Three bandmate-inspired mixtapes precede the October 7th release of Throwback To The Future. They shared Mixtape #1 - Rodrigo Mix back in July and now they've dropped Mixtape #2 - Ladybug Mecca Mix. While derived from the same Afro-Brazilian menu, each mix is seasoned with its own distinctive flavor. To get us further primed for the forthcoming LP, they've unveiled the album's lead single "Saudade Songbook" featuring Count Bass D. Listen to all three cuts below, visit the band's website for additional content and pre-order Throwback To The Future via Bandcamp (CD and Vinyl available) or iTunes.
The album was recorded in five cities across two nations, but the group will be making their live debut at SOB's (Sounds of Brazil, in case you didn't know) in New York City on September 14th. Throwback To The Future features appearances by keyboardist Brian Jackson, emcee Del The Funky Homosapien and turntablists Kid Koala and Mr. Len, so you never know who'll be on tap to share the stage with the BROOKZILL! crew. Tickets are available through the SOB's website.
- Advertisement -
- Advertisement -
- Advertisement -