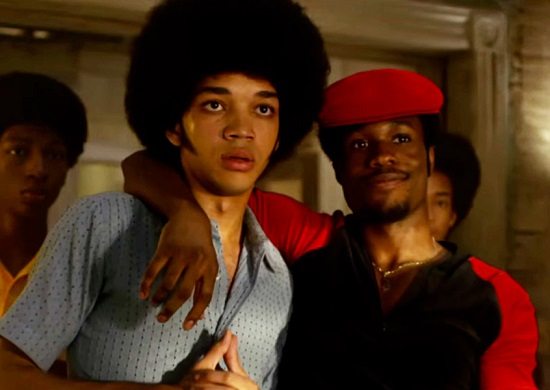 Way back in January of this year, Netflix gave us a sneak peek into The Get Down, their highly anticipated show based around the birth of hip-hop culture in the Bronx during the late 1970s. That teaser trailer alone had us amped to see what the series would bring. Now with the show set to premiere next month, the streaming service gives us an even more in-depth look with the series' official, full-length trailer.
The trailer takes us even further into the world of the Bronx in '70s. Buildings burn and the temperature swelters as we watch a ragtag group of teenagers come of age and come into their own. But the series isn't just a reason to take a trip back to the time of Afros, bell bottoms and polyester. It's also a chance to see how music shapes the lives of these youngsters. We see the small crew experimenting with sounds that will become the building blocks of rap in the next decade as they write rhymes and spin records. We also see a young singer pulled between the church of her father and the glittery allure of disco. With the whole thing wrapped up in executive producer Baz Luhrmann's enchanting stylized gaze, The Get Down looks like it will be the talk of the town (or at least the internet) upon its arrival.
The Get Down, which notably stars Dope's Shameik Moore, Jaden Smith, Justice Smith, Giancarlo Esposito and Jimmy Smits and counts Nas and Grandmaster Flash among its producers, will arrive on August 12th. Get you binge-watching snacks ready and check out the trailer below.