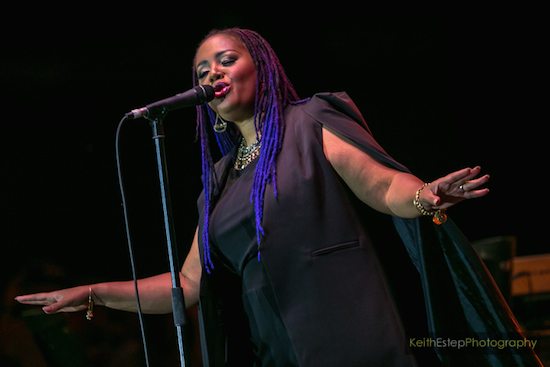 Hours after one Daughter of Soul, Syleena Johnson, kicked off the first day of the 2nd Annual ATL Soul Life Music Festival, another came to bring it to a close when Lalah Hathaway took to the stage. Donny Hathaway's firstborn opened her set with a tribute to her father, singing her cover of his song "Little Ghetto Boy," which garnered her the Best Traditional R&B Performance GRAMMY Award earlier this year. She followed that remake with another taken from her Lalah Hathaway LIVE! album, her chart-topping version of Anita Baker's "Angel," which she deftly incorporated verses from Baker's "Good Love," "Rapture" and "Good Love" into.
Lalah continued her masterclass with a phenomenal version of George Girshwin's classic "Summertime." After going back in time, Lalah took a leap forward and sang her current single "Mirror." Hathaway continued to mesmerize with her rendition of "Forever, For Always, For Love," originally sung by Luther Vandross, until her big finish with one of her signature songs from her debut album, "Somethin'."
With yet another stellar performance, the legendary Donny Hathaway's baby girl is well on her way to becoming a legend in her own right.
no images were found