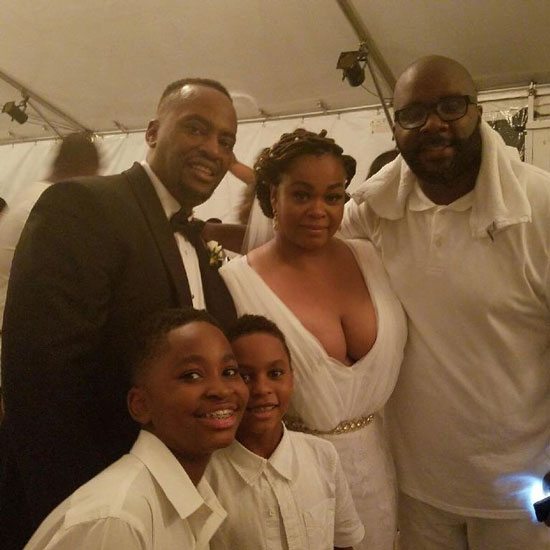 Jill Scott broke the Internet early Sunday morning when fans woke up to photos and videos from her surprise wedding to her secret fiancee on Saturday that quickly spread all over social media. Wedding DJ and friend of the groom, DJ Mars, spilled the tea with the above photo and various videos from the reception that he posted to Instagram that gave some insight into the happy occasion.
Who's the smart man who liked it and put a ring on it? Well, he goes by the name of Mike Dobson, but not much is known about the native New Yorker other than he wears a black tuxedo well, loves him some Jilly from Philly and has good taste in DJs. According to Mars, Dobson asked him to save the date a year ago, paid the deposit and booked him for the gig. The only nugget of info that DJ Mars didn't have was who the bride was gonna be! He was shocked and awed to learn that it was in fact Jill Scott at the wedding.
Close friends and family were invited to the nuptials in Nashville and everyone was requested to wear white to the private ceremony. Jill herself was a vision of love dressed in a white lace gown with a plunging neckline accented by a gold belt. From the footage that has surfaced, she is seen beaming while her husband speaks to their guests, when he feeds her wedding cake and when she's dancing with her son Jett Hamilton Roberts. Later at the reception, Jill got a huge surprise, too, when Big Daddy Kane walked in and started rapping when Mars spun "Smooth Operator." The look on her face when she realizes that it's Kane is truly priceless.
This is Jill's second marriage following her almost six-year union to Lyzel Williams (the inspiration behind her classic "He Loves Me (Lyzel In E Flat)") that ended in 2007. The beloved songstress was also in a long-term relationship with her son's father, Lil' John Roberts, but they ended their engagement in 2009.
Congratulations to Jill Scott on her marriage and for keeping her relationship out of the public eye -- until now, at least. We wish Mr. and Mrs. Mike Dobson a lifetime of love, peace and soul together. Watch DJ Mars' exclusive videos on the following pages to share in the happy couple's joyous day.