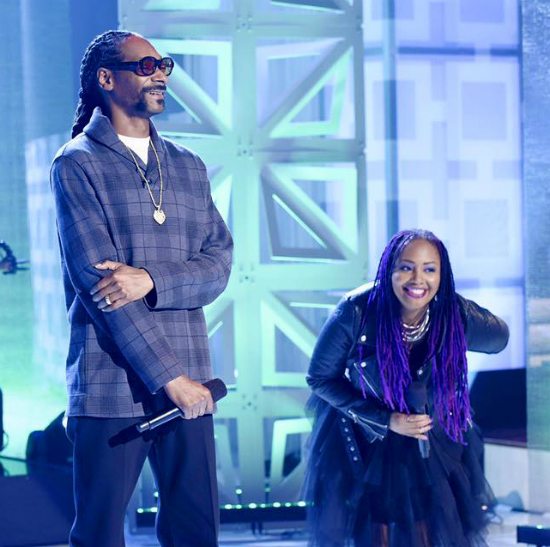 Lalah Hathaway stopped by The Real this week to perform the GRAMMY-winning single "Ghetto Boy." With Terrace Martin on the sax and Uncle Snoop Dogg providing his West Coast vibes, the performance was just as smooth and effortless as the collaboration. Lalah, dressed in a black tutu and pink Doc Martens, sprinkled her magic all over the performance, mesmerizing The Real's audience and hosts to keep their eyes on her. After Lalah sang us into a trance, Snoop and the audience sang the song's hopeful refrain, "Everything has got to get better," in unison, further selling the performance.
Continuing her TV rounds, Lalah also performed her single "Mirror" on Steve Harvey's eponymous daytime talk show yesterday. The acoustic performance of the track, featured on her Lalah Hathaway LIVE album, promotes self love and care. "Sometimes you gotta make the mirror your best friend / And maybe then you'll find some peace within," she sings. You may want to go ahead and love yourself by clicking play, because the performance and her vocals are just as sweet as the lyrics.
We'll be catching Lalah on the road at the ATL Soul Life Music Fest in Atlanta this weekend and can't wait to check out her DJ alter ego during her '80s Party with crooner Eric Roberson. Lalah also hits the Capital Jazz Fest in June and the ESSENCE Festival in New Orleans and the inaugural Los Angeles Soul Music Festival, both in July. She'll be on the road until August, but you can successfully find Lalah's whereabouts and purchase tickets on her website. You can purchase "Ghetto Boy" and "Mirror" on iTunes or watch both performances of the beautiful singles right here.