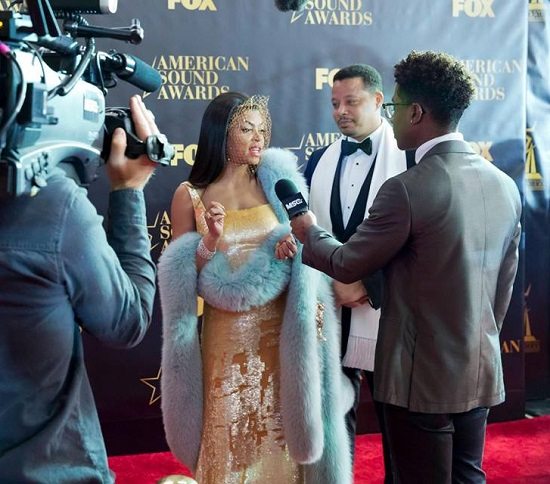 Last week was rather busy for the Lyon family. Hakeem tried to get a song on a soundtrack for the next Ryan Coogler movie, Jamal got him a new DL thug boo thang whom he can't claim in public and Cookie's sister, Carol, ran into Tariq Cousins, an old friend from Philly who just so happens to be associated with the Feds and is obviously up to no good. Oh, and Lucious was also reunited with his mother, Leah Walker, who bakes him a plethora of cakes to eat before wishing he was dead. What drama did this week bring?
Episode 217: Rise In Sin
It's the night before the ASAs and Lucious Lyon is prepping his band, standing like a grand maestro in his red suede blazer and black turtleneck as he stresses to them that there can be no mistakes. He's yelling "This is the ASAs!" amidst a bunch of clangs and disinterested faces. While Lucious is rallying the troops, Cookie, decked out in a fur and plaid combination that only she can could pull off, visits Lucious' rehearsal to talk to him about his recent reunion with his mother. Lucious is working his band like a dog because he doesn't want to go home to his mama. Of course, when his mother says that she wish she'd killed you when you were a child while brandishing a kitchen knife, we can't blame him for wanting to stay away.
Speaking of Ms. Leah, she's at the stately Lyon Manor watching the finest of daytime television. While giving the cook hell for leaving the Lawry's off of her Eggs Benedict and looking for The Price Is Right, she comes across Lucious' video for "Boom Boom Boom Boom" -- you know, the one where he shows all of the child abuse he suffered at the hands of his mother -- comes on the screen. Ms. Leah instantly experiences flashbacks to when she was dark skinned and suicidal. Dismayed by the video, she utters, "He's always been a liar. A bold-faced liar."
While Ms. Leah is in her feelings, Cookie's in her office watching her sister Carol show off the bright red dress she plans to wear to the ASAs. Carol lets slip that she's having dinner at Leviticus with their old friend Tariq, better known as Tariq the Freak, from their days back in Philly. However, Cookie remembers Tariq the Freak as also Tariq the 5-0 and her spidey-sense is  tingling.
Meanwhile, Jamal has finally reunited with Freda Gatz. Apparently the two have mended fences after Jamal decided to give her the boot in favor of Stacy Run Run, who ran right up out the studio on him. They are performing a new song for Jamal's new boo, D-Major. After Freda leaves, D-Major suggests Jamal let him produce his next album instead of Lucious or Cookie, implying he needs to grow up instead of being a "musical mama's boy."
Back at Lyon Manor, Ms. Leah and Andre play crosswords, compare medications and talk about Lucious. Ms. Leah just doesn't feel comfortable in the big house and feels left out from the rest of the family. She's also feeling some kind of way because Lucious lied about her being dead, but holds her tongue not to ruin his credibility. Andre promises to make her feel more welcome by taking her to the ASAs.
- Advertisement -
Over at Empire, Laura and Hakeem are talking about their pending nuptials, with Laura trying to use it as an opportunity to sell her brand. Hakeem breaks it to her that her career just ain't poppin'. Meanwhile, Lucious and Cookie discuss Tariq the Freak and what he's up to. Thirsty didn't find any dirt, but Cookie's suspicions ain't letting up. She goes to see Tariq to get the lowdown on her own. He tries to bring up old ish, but Cookie cuts him off. Then he brings up the fact that Lucious killed Bunky. Cookie plays dirty and tells Tariq her sister has herpes and she hopes it's not too late. Everything comes to a head the next day in the Empire conference room, with Carol confronting Cookie about going to see Tariq, as well as a few other things on her mind. Apparently Cookie stole Lucious from Carol back in the day, along with a few other boyfriends. The sisters go back and forth slinging dirt and jealousy before Cookie throws Carol out of the conference room and out of her life.
Cookie and Carol aren't the only family members having it out this episode. Back in the studio, Jamal and D-Major are once again playing tongue hockey, however, this time they get caught by Lucious, who walks in on the budding couple. D-Major pushes Jamal away and tries to make it seem like Jamal was pushing up on him before thundering out of the room. But Lucious ain't dumb. He casually asks if D-Major is still on the DL and trying to use his sexuality to manipulate people. While Lucious is trying to put his son up on game, Jamal gets in his feelings. Lucious then crosses a line, returning to him throwing young Jamal in the garbage can and calling his sexuality an abomination, while telling his son he needs to get over it. Jamal calls Lucious out for not getting over his mom trying to drown him, pretty much putting the nail in the coffin on their relationship. Lucious calls Jamal a disappointment (like he told Andre a few episodes ago) and adds that he hopes Jamal dies from AIDS.
- Advertisement -
Frantic and frustrated, Jamal runs to Cookie for help and guidance. However, all she cares about is why he's working with Freda again. She finally admits that she was released from jail because she snitched on Frank Gathers, Freda's father. Jamal puts two and two together that Lucious killed Frank.
- Advertisement -