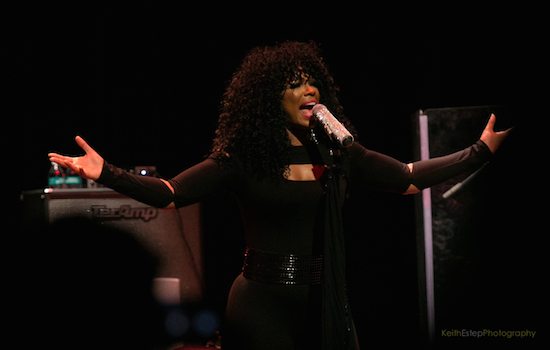 Since the last time that Syleena Johnson performed in the Washington, DC area in 2015, she is a new woman. Nothing has changed about her voice, which remains as powerful and soulful as ever, but when she strutted onto the stage of the Bethesda Blues & Jazz Supper Club in a skintight, black catsuit and stilettos, she flaunted a svelte new look that made everyone give her a hearty round of applause. If you've been following Syleena on social media or reading her The Weight Is Over Blog right here on SoulBounce, then you already know that she has transformed her body through healthy nutrition and a dedicated fitness regiment. To see her in person, however, and exhibiting a refreshed self-assuredness and renewed confidence is even more amazing.
Not only did Syleena Johnson look fabulous for her two shows the night of Saturday, April 9th, but she sounded it, too. Wearing a long, curly hairstyle reminiscent of Donna Summer, it was only right for Johnson to begin her set with "Love To Love You Baby." She changed the lyrics up at one point to say, "Love to love you, D.C." and the DMV showed her love right back as she continued with selections from Diana Ross and the dearly departed Natalie Cole and Vanity. After a smoking version of Vanity 6's "Nasty Girl," Syleena segued into her own jams, including her famous hook from Kanye West's "All Falls Down," "Hypnotic" and "Tonight I'm Gonna Let Go (Remix)" before slowing the tempo down a taste with her debut single "Guess What."
Syleena brought the realness and rawness for this performance of "Guess What," switching up the lyrics to tell her man to, "Watch what time you bring your punk ass in," and even interpolating in a little of Erykah Badu's "Bag Lady" lyrics. While she was on the topic of rocky relationships, she sang "Heaven In Hell," "Perfectly Worthless" and "My Love," all from the love manual of Chapter 6: Couples Therapy.
By this time, Syleena had taken her heels off and gotten comfortable. Sitting on a stool, she continued to share her candid thoughts during an acoustic set that found her dipping back into the R&B classics to sing Janet Jackson's "Funny How Time Flies" and Sade's "No Ordinary Love." Johnson then stripped things all the way down to sing a cappella while taking requests from the audience. She sang an epic version of "Slowly" -- one of the sexiest songs on her catalog from Chapter 3: The Flesh -- that provided audio foreplay for anyone who came to the show with their significant other or a date.
After getting everyone in attendance hot and bothered, she sent them on their way and stepping out of the venue to the tune of her song "I Am Your Woman" before ending the concert with R. Kelly's "Step In the Name of Love."
Syleena Johnson may have a fresh new look, but she gave her DMV fans yet another entertaining, engaging and energizing performance with an excellent blend of old and new and covers and originals with her signature soul throughout.
no images were found
- Advertisement -