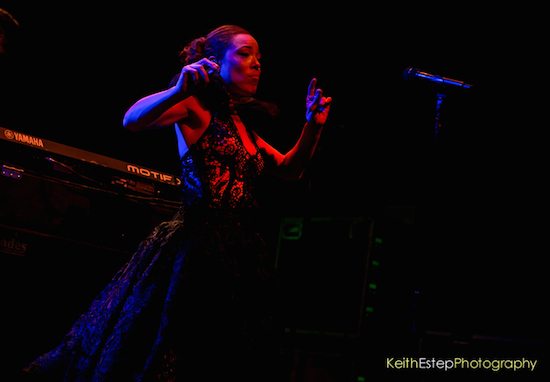 Fresh from scoring two GRAMMY Awards for her work with D'Angelo on his celebrated comeback album, Black Messiah, Kendra Foster is gearing up to release an album of her own. Since leaving D'Angelo's band The Vanguard, the singer/songwriter has focused on her own music and the result is her upcoming self-titled collection, which will be released in June on EarKandy Music.
Ear candy is precisely what we're unwrapping from Kendra on the project's first single, "Promise to Stay Here." Produced by long-time collaborator Kelvin Wooten who has worked with everyone from Mary J. Blige to Anthony Hamilton, "Promise to Stay Here" is steeped in funk and finds Kendra is in a zone channeling her inner Chaka Khan from the Rufus days, Betty Davis and Mallia Franklin, the singer widely known as the Queen of Funk. Foster, who also has history as a member of George Clinton's Parliament-Funkadelic in recent years, follows in the trailblazing steps of those funky divas and delivers soulful yet gritty vocals here. She purrs, she growls and displays her range while begging and pleading for her lover to make some time and take the time for each other. Inspired by the push and pull of her experience in a long-distance relationship, passion and longing drip from every word Kendra Foster sings over Wooten's slinky production fueled by Fender Rhodes, bass and wah-wah guitar.
"Promise to Stay Here" sounds straight out of the '70s, like the love theme from a Blaxploitation movie. Kendra Foster's authentic blend of fiery funk and sultry soul is the real deal. Listen to and fall in love with "Promise to Stay Here" right here, and we promise that you'll be adding Kendra Foster to the top of your June shopping lists.