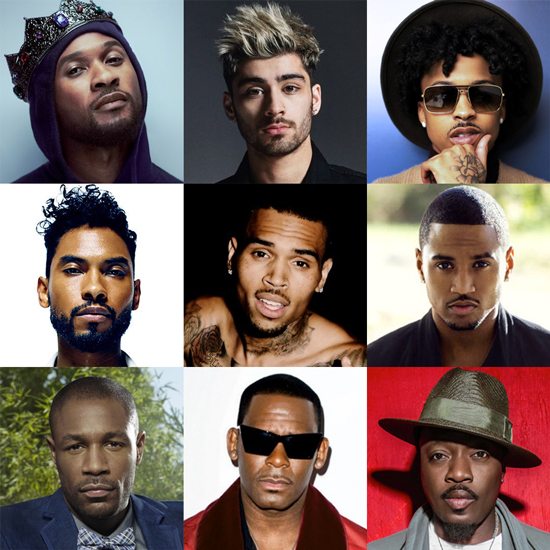 The highlight of Chris Brown's last album Royalty, has to be the single "Back To Sleep." The bedroom banger that samples Marvin Gaye's "Sexual Healing" is a polished, well-produced song that spotlight's Brown's talent while only hinting at the struggles of his private life. Unlike other love songs out today, it doesn't confuse being raunchy for being sexy or objectifying a woman for intimacy. It's no surprise that there's a remix. What is a surprise is that there are THREE remixes. However, while the original song is a bonafide R&B jam, each successive remix seems to lose the qualities that made the original track such a hot song.
The first remix, which we'll call the "Pop Remix," features Usher and Zayn Malik formerly of One Direction. While Usher lays down a sexy verse that dips into being a little too grown talking about "pineapples," it's not a bad verse. On the other hand, Brown's verse loses steam when he chooses to shout out the name of his infamous ex, Karrueche Tran. Petty much? Finally, Zayn provides a verse that feels tacked on and pretty much forgettable.
The second remix, which we'll call the "Young Playa Remix," features August Alsina, Miguel and Trey Songz. August Alsina opens the track with a quote from Yarbrough & Peoples' 1981 hit "Don't Stop the Music," singing "I just want to rock you all night long," which will make you happy or cringe, before descending into barely audible warbling. Miguel, for all his creativity, is just nasty for the sake of being nasty. Thankfully, Trey Songz comes through at the end to save the day, delivering a somewhat heartfelt verse that isn't just freaky for the sake of being freaky.
The third remix, which we'll refer to as the "Grown & Sexy Remix," features Tank, R. Kelly and Anthony Hamilton laying down their game. Tank kicks off the festivities with a raunchy sweet nothings such as "I'm kissing, I'm sucking, I'm licking yo body / Who's else gon' beat it like me / Keith Sweat / Nobody." While his voice is impeccable, his verse isn't. Kellz actually delivers a more subdued (for him) verse that, besides referring to his female friend as a Pop Tart. Last but not least, Anthony Hamilton lends his warm, gravely voice to a verse about "hugging on your waist like a man should," that is a nice change of pace, but feels a little off amongst the raunch. We'll just wait for Anthony and The HamilTones to sing their own version of "Back To Sleep" while out on tour with Fantasia.
While we appreciate a good R&B posse cut, "Back to Sleep" was already a solid song that really didn't need a remix, let alone three. In fact, each successive remix is weaker than the last. Unlike rap, R&B often requires more time and effort. Besides Chris, Usher and Trey, none of the features sound like there was any real thought put into the final product. You could patch together their verses and make a much better remix, actually. In fact, most of the singers on these remixes sound like they want to live out their dream of being a rapper on the track, but their hot 16s are lukewarm at best. However, if they decide to perform all these remixes as one massive posse performance at this year's BET Awards in June, we won't be mad.
While we wait to see if a fourth "Back To Sleep" remix surfaces (because why stop at three, right?), check out all the remixes we've heard thus far below and let us know which one you think is the best.
- Advertisement -
- Advertisement -