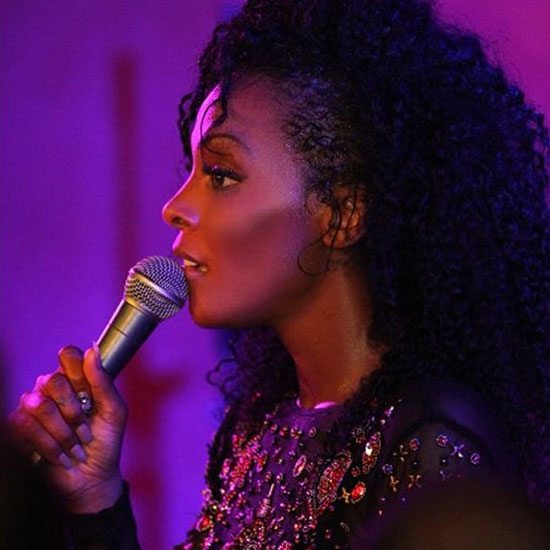 New York City, the concrete jungle and the perfect place for DΔWN (the artist formerly known as Dawn Richard) to officially launch opening night of her REDemption 2016 Live Tour. Set to make tackle five shows this week as one of this year's SXSW "must-see female artists," DΔWN is one fearless force finally getting her shine as a solo artist.
Saturday night's show at Webster Hall was a sonic boom of a journey through her chart-topping indie releases, a trilogy of shape-shifting R&B, which DΔWN plans to complete later this year with the final installment, RedemptionHeart. Showcasing her versatility and dexterity on stage, DΔWN was flanked by two male dancers, a drummer and a keyboardist for an 80-minute set that included more than the lion's share of her left-of-center alternative, electronic dance and soul hybrid music. High octane, spectacular and with DΔWN center stage singing for her army of devoted fans affectionately known as "the Hearts," the REDemption Live show made it nearly impossible to stand still from the moment lights dimmed til her final bow.
Wearing a sexy midriff top, high-waist shorts under a black bejeweled blazer paired with knee-high boots, DΔWN opened the show with the thunderous "Faith" beckoning everyone to the dance floor. She later trekked through the completely spaced out "Meteors," crowd favorite "Return of a Queen" and the hypnotic "Calypso." Never one to take a break for too long, DΔWN also gave Rihanna's "Work" a spin on its axis to make it her own. As "the Hearts" sang along, DΔWN proved she's light years away from her Danity Kane days even before a brief segue into her second former group Diddy - Dirty Money's "Love Come Down."
Whether it's the empowering "Titans" from 2015's year-end list staple Blackheart to the lingering love of '80s-flavored "Ode To You" from 2013's Goldenheart or the awkward trippy dance beat of the newly released "Not Above That," DΔWN's sound, look and energy continues morphing and gyrating just as effortlessly as she does on the main stage.
On Sunday, she provided an intimate in-store performance at VFiles in New York's chic SoHo neighborhood for the true Hearts who came out for a second helping of DΔWN's party anthems. An atmosphere of love and celebration permeated the air as the band minus dancers took on 25-minutes of the previous night's favorite moments beforeDΔWN hung out, took pictures and bid her New York Hearts adieu until her return this summer at the Brooklyn Northside Festival June 9th-12th.
DΔWN's REDemption Live Tour hits Minneapolis, MN and Chicago, IL in April with more festival dates coming throughout the summer. Keep up with all DΔWN's upcoming dates at Redemption2016.com or on Twitter as this is one shooting star who is bound to make this her biggest year yet.

- Advertisement -