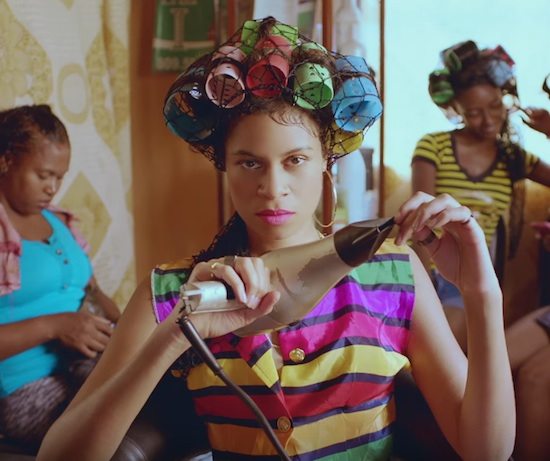 Electronic music duo AlunaGeorge, consisting of vocalist/songwriter Aluna Francis alongside George Reid on production and instrumentation, have a knack for creating danceable UK garage numbers with a hint of world soul. Their sonic partnership on "I'm In Control," the first track and accompanying music video to be lifted from their sophomore studio album I Remember (due April 29th), teams the British duo up with rising Jamaican dancehall artist Popcaan for a stimulating fusion of styles, influences and cultures.
Visually, "I'm in Control" captures the simplicity and comfort of barrio life in the Dominican Republic showing us another side of the island paradise. Aluna plays a coy game of strip chess to undress a guy and later lounges on a bed in front of a fan to beat the heat. The video takes Aluna from the salon where she gets her hair set on huge, colorful plastic rollers to the streets where she poses with her girls all clad in sexy, brightly colored short sets. Young men pop wheelies on motorbikes, children race by on inline skates and the breezy urban scenes are completed by a ride around town in a cramped minivan, a masked party after dark, natives enjoying life on very little and Aluna's gangly dance moves and multiple outfit changes.
The carefree nature of Aluna's voice, the video and her ethnically ambiguous beauty adds just the right touch of quirkiness to the islander EDM beat she rides throughout the single. As the front woman of the group, the genre-bridging game is key to AlunaGeorge's potential for a massive crossover appeal. Whatever happens next for AlunaGeorge, it's sure to be impressive, as "I'm in Control" has already gained in excess of two million views on YouTube. Take a look below to find out what all the hot and steamy fuss over AlunaGeorge's "I'm In Control" is about.