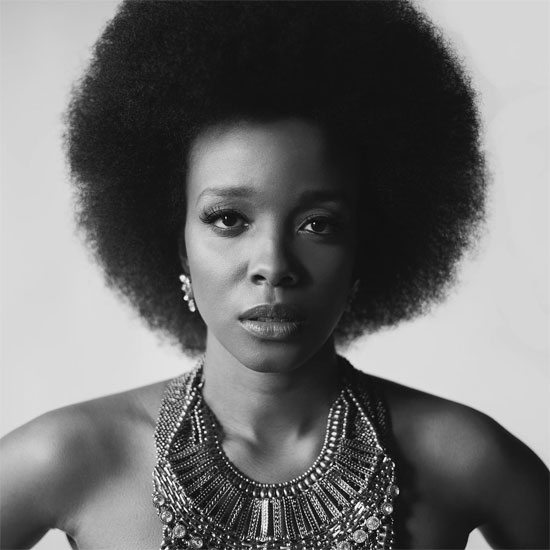 Jamila Woods celebrates #BlackGirlMagic and calls out a racist America in one fell swoop on her unapologetic new song "blk girl soldier." With its thought-provoking lyrics and call for justice, this track is the perfect anthem for the current political and cultural climate in America today.
Woods, formerly of the Bounce-Worthy duo M&O (FKA Milo & Otis), doesn't hold back one bit on "blk girl soldier," and that's precisely what we love about the track. Producers Jus Cuz and Saba did an outstanding job of melding together Woods' soulful voice with heavy drums and some distorted electric guitar. Layered vocals coalesce to form delicate harmonies that are a total contrast to the warrior like message of the song. Woods isn't just a singer but also an extremely talented published poet; her command of prose is clear in the abundant metaphors and clever use of language in the lyrics of "blk girl soldier." Black women aren't just magic in this song, they're also freedom fighters, active and important agents of change. She delivers straight-up truth with lyrics like, "See she's telepathic / Call it black girl magic/ Yeah, she scares the government / Déjà vu of Tubman," name checking abolitionist Harriet Tubman on the biting chorus.  Throughout the song Woods celebrates the strength of black women by juxtaposing historical icons such as Rosa Parks, Angela Davis and Sojourner Truth with the black women currently fighting injustice on the front lines.
Jamila Woods' "blk girl soldier" is a must-have addition to the modern freedom fighter's playlist. Whether you're on the front lines or fighting injustice from behind a computer screen, Woods' message is one that anyone interested in equality should listen to. Listen to "blk girl soldier" and join the revolutionary movement of celebrating black women and their relentless push for equality, justice and peace.