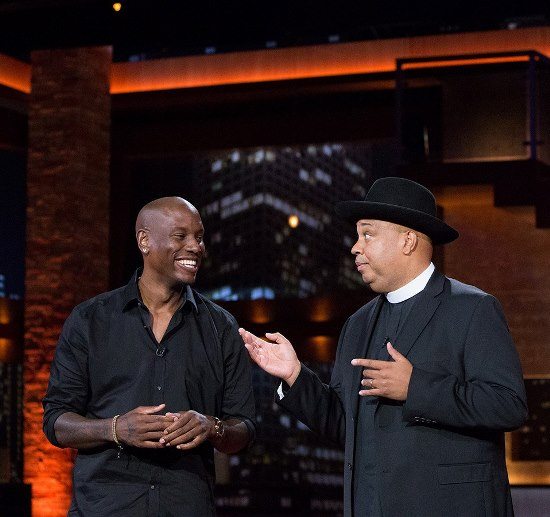 When it comes to relationships, you don't have to look far for advice. Family members and friends are quick to share opinions. But celebrities have plenty of views on the subject as well and apparently, people are very interested in what they have to say...particularly when it comes from a male perspective. For a long time, radio personalities like Steve Harvey and Michael Baisden were the standard-bearers when it came to delving into the psyche of the average guy. But with the increasing popularity of social media platforms and reality television outlets, more and more celebrities are happily sharing their thoughts.
Hip Hop legend/author/reality TV star Rev Run and R&B singer/movie star/author Tyrese are hoping their particular brand of relationship guidance will translate into ratings gold with their talk show It's Not You, It's Men. Set to debut on Oprah Winfrey's OWN channel, the weekly series aims to bring viewers "fresh insights on sex, love and relationships" and will feature a colorful rotation of celebrity guests and relationship experts.
"Tyrese and Rev Run pride themselves on their wildly different points of view. Tyrese is a bachelor and single father in search of his dream woman, while Rev Run has been happily married for more than 20 years and is a father of six. Their ideas and opinions on love and commitment almost always clash, and the passionate, hilarious conversation that ensues between the longtime friends is a testament to their unique chemistry."
We know, we know...the whole "think like a man" angle has run its course. But before you commence eye-rolling, let's give these two some credit. After all, they did pen a New York Times bestselling book on the subject (remember Manology: Secrets of Your Man's Mind Revealed?). No, that doesn't make them experts, but at the very least it guarantees some entertaining viewing (especially given Tyrese's social media trail). Plus, we can already imagine the hilarity that will ensue on Black Twitter once the #ITSNOTYOUITSMEN hashtag starts trending. Get a sneak peek below and be sure to tune in to OWN for the premiere on January 23rd at 9 p.m. ET/PT.