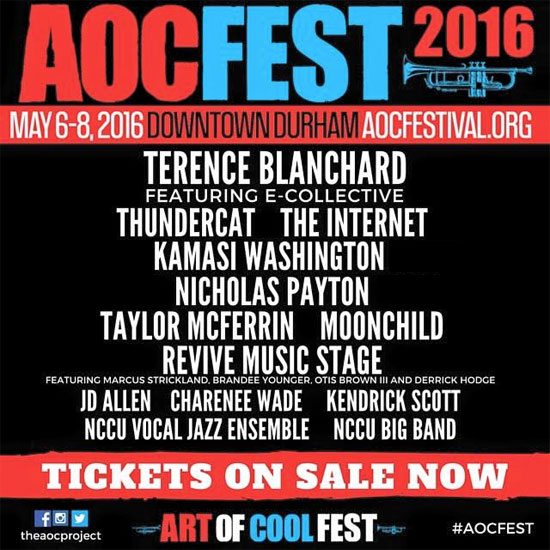 A new year is upon us, and as we look forward to the plethora of new music coming our way in 2016, we're also excited about upcoming music events, too. It's never too early to start planing for festival season, and one of our favorites returns for the third year for the Art of Cool Fest 2016 from Friday, May 6th through Sunday, May 8th.
Durham, North Carolina will once again play host to the Art of Cool Fest after breaking out in 2014 and growing in 2015 into a must-attend annual event for lovers of jazz, soul and progressive urban music and culture. Multiple venues in downtown Bull City will welcome a variety of artists to their stages. The lineup for 2016 sees some heavy-hitting newcomers and return engagements by musicians asked to come back by popular demand. Headlining the festival on Friday night will be jazz great Terence Blanchard featuring E-Collective and Saturday night's headliner is The Internet. Thundercat and Moonchild are returning for their second appearances at Art of Cool Fest and other artists announced to perform thus far include Kamasi Washington, Taylor McFerrin, Nicholas Payton and Marcus Strickland, Brandee Younger, Otis Brown III and Derrick Hodge who will command the Revive Music Stage. PJ Morton will make his AOC Fest debut as the performer at the Sunday VIP brunch to close out what is destined to be another memorable weekend of music and more.
To ensure that you get to make some memories of your own at the next Art of Cool Fest, you've gotta be there. Tickets for Art of Cool Fest 2016 are on sale now on the festival's website, and if past years are any indication, these tickets will go fast. With the incredible list of performers scheduled for 2016, tickets and special packages selling out are pretty much guaranteed, so make your plans early and buy your tickets now.