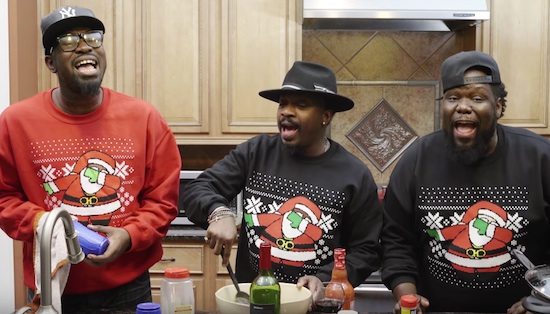 Anthony Hamilton may not have a new album out, but he has kept us mighty entertained all of 2015. We played his 2014 Christmas album Home For the Holidays way past the season and into the new year, enjoyed his brief role on Empire, grooved to his guest spots on new music from Teedra Moses, Jess Glynne and August Alsina and got life from seeing him live in concert. But what has really set this year off has been Hamilton and his background singers The Hamiltones' random videos singing popular songs with a souled out twist.
When we last caught up with the fellas, they were backstage at a concert in Hampton, VA in November, and they put a soulful gospel spin on Drake's "Hotline Bling" that had us catching the holy ghost and ready to take up a collection. Hamilton's fans have asked for more, and Anthony and his squad decided to make a Christmas love offering with a new "HamilToned" rendition of a hot track. The hot track in question this time is 2 Chainz's "Watch Out," and AHam is joined in the kitchen (a very nice kitchen we might add) by The Hamiltones' J.Vito and Jack "JK" King. The trio are all decked out in their 2 Chainz Dabbing Santa ugly Christmas sweaters and cooking chicken wings as they break out into song and Dab. Yes, this all happened, and it's worth spending two minutes of your time to watch just to hear their harmonies and high notes alone.
We know that Anthony Hamilton has a new album on the way on 2016, but he may want to consider dropping a mixtape of these soul reworks with The Hamiltones and producing a cooking show while he's at it. Whatever he decides to do, we'll be turning up and tuning in.