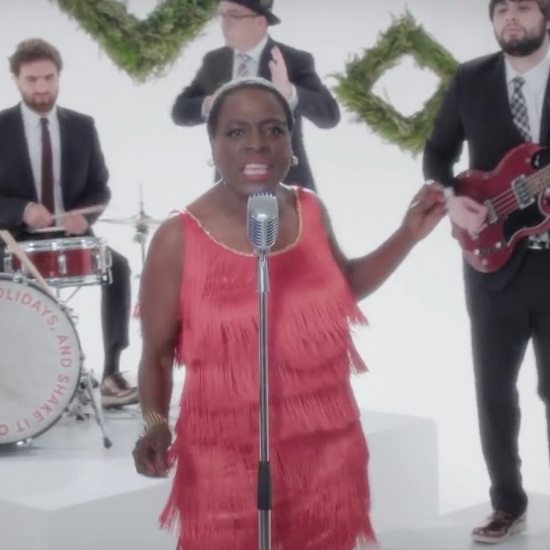 I refuse to be "rushed" into any holiday. Christmas displays in October?? No, thank you. But with Thanksgiving just one day away, it's hard not succumb to the festive spirit of Yuletide. Especially when there's a tempting buffet of new holiday music to dig into. Never ones to shy away from a good time, Sharon Jones & the Dap-Kings have cooked up something extra special with their first seasonal album It's a Holiday Soul Party. The retro-soul outfit is in the giving mood, treating us to a peek inside the project with a video for their rendition of "White Christmas."
Clocking in at a mere two minutes long, the crew makes every second count with this retrofied cover. The Dap-Kings' bold, spirited arrangement entices us to work up a sweat while backup singers Saun & Starr use their voices to embellish the tune with and air of vibrancy and fun. Shimmying for her life and looking fantastic, Ms. Jones infuses the classic tune with gritty soul and dynamic gospel to create an unforgettable track that is sure to become a staple on airwaves and playlists for years to come.
There are a few chances to see Sharon Jones & the Dap-Kings this December (and beyond) so be sure to mark your calendars. In addition to tour dates in New York, Washington, D.C. and Chicago, they'll also be appearing on Michael Bublé's Christmas in Hollywood, which airs December 10th on NBC. Head over to Bandcamp or Daptone Records shop to add some funk to your holiday playlist. Also be on the lookout for Miss Sharon Jones!, the documentary film (recently premiered at DOC NYC) chronicling the singer's career and cancer battle.