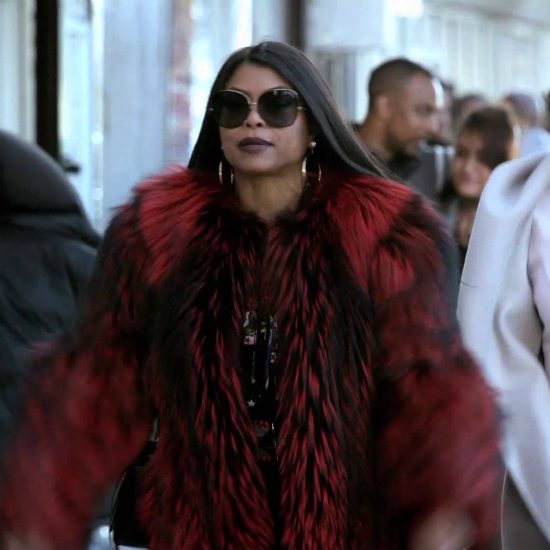 While most shows took a break during the Thanksgiving holiday, Empire kept things rolling as usual. Last time we saw the Lyon family, Lucious was begrudgingly signing a deal with SwiftStream, Cookie's new man Laz was still plotting a come up for his crew, Hakeem won his battle against Fantasia Loaf Freda Gats, Booty Eater #1 Vivica Foxx guest starred as Cookie's sister who came to warn her that their other sibling Carol is in trouble and Boo Boo Kitty and her unborn love child took Hakeem's new love interest, Laura, on a ride. What tom foolery and hijinks were all these crazy fools up to in this new episode?
Episode 209: Sinned Against
The latest episode opens with Cookie walking fast through her own neighborhood in Philly and talking cash s**t with her sister Candace in tow, looking for their sister Carol. She ain't got time for the shenanigans when she's got a Cookout concert to plan. Meanwhile, Hakeem is doing his best to hold things down at the Lyon Dynasty offices. Hakeem calls Cookie to inform her that the concert has sold out and they want to organize a second show. Cookie leaves Hakeem in charge of things and strolls on with Candace. 
In addition to his duties as the youngest in charge, Hakeem is also practicing and developing new songs to perform with his new love boo thang Laura, who doesn't have a scratch on her after the previous episode's low key cliffhanger. They perform a duet together, "Miracles," because when they're together it's miracles. Watching the rehearsal live stream on her cell phone is Boo Boo Kitty. The poor thing is obsessed with Hakeem, her floor covered with photographs and tabloid articles talking about him. Oh! and look, she even drew hearts over his head. It would almost be endearing if it wasn't for the fact that she's stalking him and his girlfriend. Or that she's his father's ex. Or the fact that she's a grown ass woman. Okay, so it's not endearing whatsoever.
Meanwhile, across town Empire is holding a press conference to announce a collaboration between Lucious, Jamal and multiplatinum recording artist Skye Summers, played by Alicia Keys. The collaboration will be featured on Jamal's upcoming album entitled Black and White. I thought it was going to be called The Artist. Hmmm...Keep working on those album titles, you're getting warmer. Throughout the whole press conference, Jamal is cheesing like a pre-teen at a One Direction concert, he's so excited to work with his fave artist. 
Cutting back over to Lyon Dynasty, Laz is in the office trying to get all of the paperwork complete for the second concert. However, his boys, anxious to get this extortion money, try to pressure Laz into letting them rough up Hakeem and Laura in the next room. Laz tries to convince them to hold off so they can get the big money, but they just won't listen. So Laz calls the deal off and pulls a gun on his boys to get them to back off. 
Back over in Philly, Cookie and Candace are still on the prowl for their missing sister Carol. Cookie is over it and needs to go back to New York, but Candace pleads with her to stay. Then she makes the mistake of asking about Jermel, the cousin who Frank Gathers beheaded in prison. This leads to Cookie walking out of the vehicle and trying to catch a cab back to New York. She used to do this all the time in the first season. We wish more things could be like the first season. 
- Advertisement -
While things in Philly are going south for Cookie's family, things are starting to look up for the Lyon family in Long Island. Lucious has just purchased a new mansion for Andre and his wife in anticipation of the new baby. Lucious pledges that he's done testing his son, he's so overjoyed at the news of a grandchild to carry on his legacy. Right... Anyway, Andre proposes that Lucious put up his old catalog as collateral for the streaming deal. Only one problem: Cookie owns half his publishing.
Across town at Lyon Dynasty, Hakeem pulls Laz aside to discuss why his boys were in the offices and what's up with the second concert not being scheduled yet. The interaction goes off with not much happening. Hakeem puts his trust in Laz to deliver at this point.
- Advertisement -
Lucious calls Cookie and tries his best to get her to talk about the streaming deal, but she's in Philly focused on family business. She meets up with her old friend from the slammer, Pepper, played by Rosie O'Donnell, who is now a baker in a suburban neighborhood. They exchange prison stories, scare a couple patrons and go in the back to get the low down on what's up with Carol. Turns out Carol's somewhere with some no good dude, but Pepper has Cookie's back and they roll out.
Back at stately Lyon Manor, Skye Summers, Lucious, Jamal and her manager talk music. Skye isn't impressed by Jamal's song "Supernatural" hoping for something edgier. Jamal continues to fan out and proposes they write something new together.
- Advertisement -
- Advertisement -