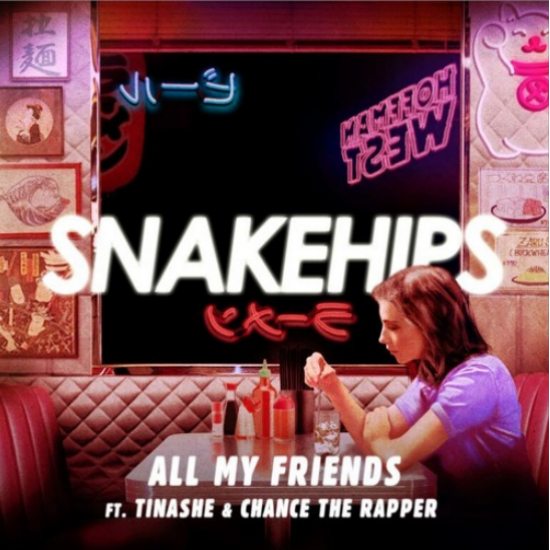 Production duo Snakehips pretty much owned our music playlists throughout the spring and summer months of 2015. The prolific team continued to impress us with a number of original gems from their Forever (Pt. II) EP, along with a couple surprise remixes and inventive "edits." Now the masters of the boards are back with a new original track featuring it-singer-of-the-moment Tinashe and it-rapper-of-the-moment Chance the Rapper called " All My Friends."
"All My Friends," is a captivating ditty about being over the party lifestyle and looking for something more. Tinashe continues her streak of formidable guest appearances, delivering a delightfully melancholy but hopeful verse. She's stuck in the club with the "vultures hissing and circling" waiting for someone to make her hotline bling for a late night creep. Meanwhile, Chance the Rapper does what a Chance the Rapper does, delivering an animated verse about hating the bar and some other interesting musings. Snakehips brings all these shenanigans to life with laid-back, mid-tempo production that matches the introspective but fun vibe of the song.
With its endearing bar chant chorus and charming co-stars, Snakehips has crafted yet another certified banger, perfect for getting your party on or chilling in the cut. While information on whether this song is a one-off loosie or the first single from an upcoming project remains to be seen, we're going to make some room on our phones and computers for new music from the production duo just in case.