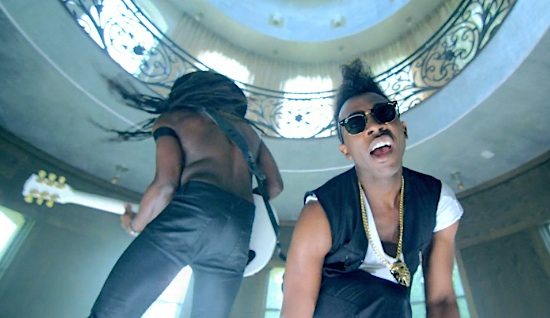 Janelle Monáe and the Wondaland Records family continue to kick ass, take names and keep us on our toes with surprise after surprise. Last week we were treated to a surprise free EP from crew member Roman GianArthur. This week, the label is releasing the video for Deep Cotton's "Let's Get Caught." The duo wowed us with their free Runaway Radio "fixtape" in late 2013, and we've been craving another hit from the rock/funk/soul/new wave/kitchen sink duo ever since. They don't disappoint with their latest cut of that premium white and accompanying video.
Featuring a groove similar to MGMT's "Electric Feel," the band shares their desire to be reckless in love against an electro-funky groove, preaching "Let's get caught uptown / Upside down downtown…" and many other examples of extreme PDA. Not to be left out of the festivities, the "Classic Man" himself Jidenna lays down a guest verse that talks about a girl wearing a chinchilla at the Thrilla in Manilla or something witty like that. 
Getting their "clatchet" on -- that's classy and ratchet, but we might substitute/add creative into the mix, as well -- the concept for the video is a pool party at a posh hotel. For those of you who have already rolled your eyes at the concept, the band takes the tried and true and somewhat banal concept at this point and gives it new life. The Sebastian Urrea-directed video infuses the visuals with just enough far out elements, Easter eggs and a nice variety of french vanillas, butter pecans and chocolate deluxes to make the clip stand apart from similar videos by their musical peers. If you've got a problem, take it up with Janelle and her areolas. 
If you're like us, you've been digging Deep Cotton's sound for a minute and know that awesome cuts like "Let's Get Caught" are just a fraction of the musical hijinks the group is capable of. However, we're more than happy that one of our personal faves is getting some well-deserved shine. You can find  "Let's Get Caught" along with "Yoga," the song of the summer "Classic Man (Remix)" featuring Kendrick Lamar and more on Wondaland Records' The Eephus EP, and catch Deep Cotton and the rest of the clique on tour in a city near you.