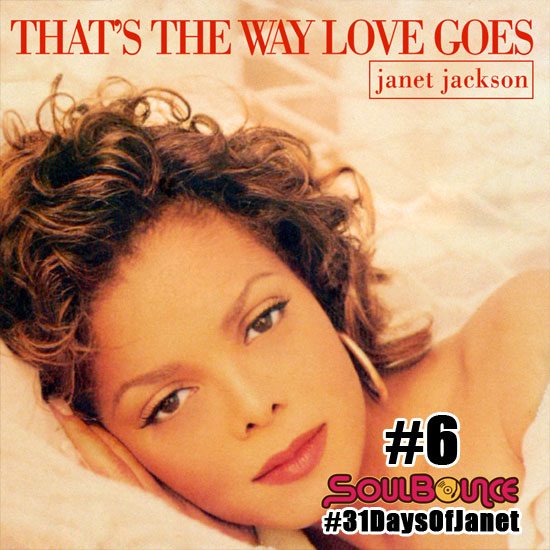 Like a moth to a flame, music lovers were drawn to Janet Jackson and the quiet fire that she brought on "That's the Way Love Goes." The lead single to her fifth album, janet., once again found Jackson in the studio with hitmen Jimmy Jam and Terry Lewis to create something new, fresh and exciting to kick off this era. Built around a sample of James Brown's 1974 track "Papa Don't Take No Mess," Jam and Lewis blended Brown's funk with hip hop elements, an R&B sensibility and Jackson's mellow-smooth, soulful vocals and arguably created the first "neo-soul" song in 1993. Nothing else sounded like "That's the Way Love Goes" at the time it was released, but it set the tone for an entire genre of music in years to come.
While the sound of "That's the Way Love Goes" was trailblazing, Janet played it cucumber cool with her delivery of innuendo filled lyrics that were hotter than July. No stranger to sensual themes and asserting herself in song, "That's the Way Love Goes" found Janet letting her lover know in no uncertain terms that he was in for the night -- and ride -- of his life.
Ooh sugar don't you hurry / You've got me here all night / Just close your eyes and hold on tight
Instead of going the obvious straight-to-the-bedroom route for the visuals, the chill vibe of the song was reinforced by the music video that featured Janet and her crew just kicking it at the crib. The kickback gets turned up when she gets jacked for her cassette tape and the tape gets popped into the sound system. Her dancers and friends (including Jennifer Lopez) enjoy themselves to Janet's new groove in then-husband René Elizondo, Jr.'s vision with choreography by Tina Landon.
Janet Jackson not only debuted a new sound and a new vibe with "That's the Way Love Goes" but a new look that would mark a style evolution for the 26-year-old and cement her sex symbol status. "That's the Way Love Goes" also cemented Jackson as a force on the charts and at awards shows. The song would be her longest running number one on the Billboard Hot 100, topping the tally for eight weeks, and go on to win the GRAMMY for Best R&B Song in 1994, among many other accolades. That's the way a hit song goes.
- Advertisement -