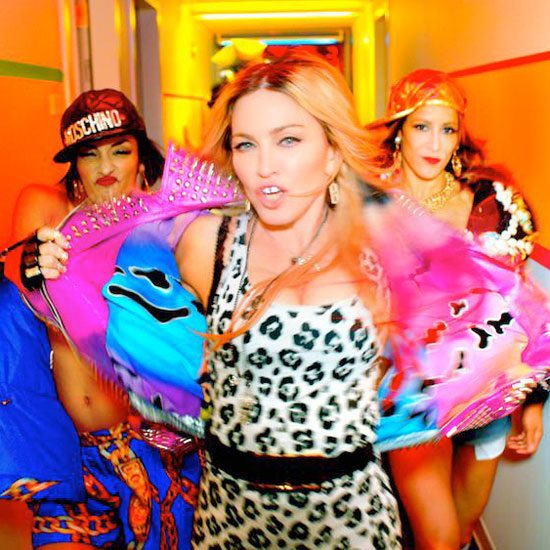 Love her, hate her or just wish she'd sit down somewhere, you have to admire Madonna's efforts to stay hip with the cool kids. A former master at courting attention, the Material Girl has been resorting to cheap tricks as of late. The video for her obnoxiously titled single "B***h I'm Madonna" is no different. Premiered exclusively on TIDAL, the aging diva has pulled out every name in her address book to entertain the masses.
In the video for the mid-life crisis anthem, Madonna gives us a peek into the life of a mega diva rockstar, inviting us to her celeb filled penthouse party. Serving as the hostess doing the mostest, Madonna leads us on a merry tour of the party, drunkenly kissing random people, crawling around on the floor and performing dance moves with Gwen Stefani's Harajuku Girls. The clip is shot in one take with a few creative cuts.
Lurking behind every corner is a drunken party guest, neon puppet or one of Madonna's fellow superstars such as Rita Ora, Diplo and Chris Rock. Not everyone could make it to the party, but they sent their regrets and pledges of allegiance to Queen Madge via a pre-recorded clips, including some of baddest b***hes in the game Beyoncé, Katy Perry, Miley Cyrus and Kanye West. Nicki Minaj also performed her guest rap via a pre-recorded video. Mama Madonna also makes it a bit of a family affair with cameos from her sons Rocco Ritchie and David Banda, who also performs a pretty awesome break dancing routine.
No matter how you feel about Madonna's antics or the song, we have to admit, the video is actually kinda fun. It takes itself about as seriously as Madonna has been taking herself lately, and for once it's not a bad thing.