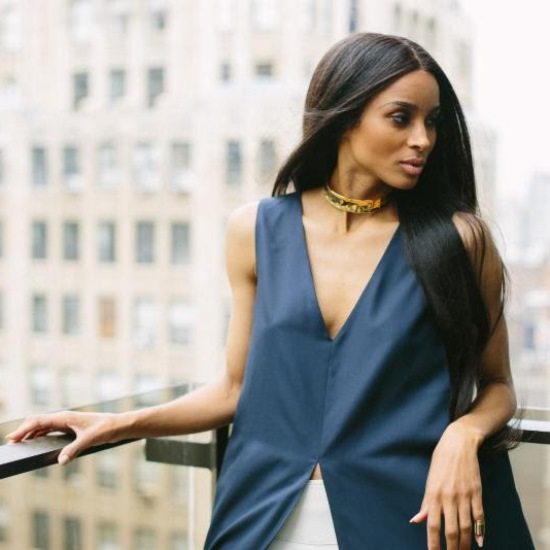 Ciara is making every moment count as she continues to promote her new LP, Jackie. After cementing her comeback with singles "I Bet" and "Dance Like We're Making Love," she set out to reconnect with her fans in person with the Jackie Tour. Thanks to Yahoo! Live, fans were able to have a virtual front row seat for the tour's opening night at The Fillmore Silver Spring.
Though CiCi has spent the past month on the road, she was still able to give us an initmate glimpse into her personal life with the touching video for "I Got You." Now, through Backstage With Citi, she's giving us another peek into her world. Citi is the official sponsor of Yahoo! Live (see the connection here?) and Backstage With Citi is their exclusive behind the scenes interview web series on Yahoo! Music. Sitting down with YM editor Lyndsey Parker, CiCi touches on everything from motherhood ("Being a mom gave me a sexy confidence.") to Missy Elliot ("She has been a big part of my success.") to her childhood celebrity/TV character crush (Jaleel White as Steve Urkel/Stefan Urquelle on Family Matters...though she mistakenly calls him "Alfonso,"...repeatedly. Oops!).
Scroll down to get up close and personal with Ciara, then check out her latest single, "Give Me Love." Jackie is currently available wherever good music is sold. The US tour wraps up this weekend in Las Vegas, but international fans can catch her this summer at the St. Kitts-Nevis Music Festival with Jason Derulo and Trey Songz, or alongside David Guetta, Nicki Minaj and Jessie J at the Wireless Festival in London. In other news, CiCi was recently announced as the face of a Roberto Cavalli Fall/Winter ad campaign. You can also catch her comedic escapades alongside celebrities like Nicole Scherzinger and Joe Jonas on NBC's I Can Do That, airing Tuesday nights at 10 p.m.