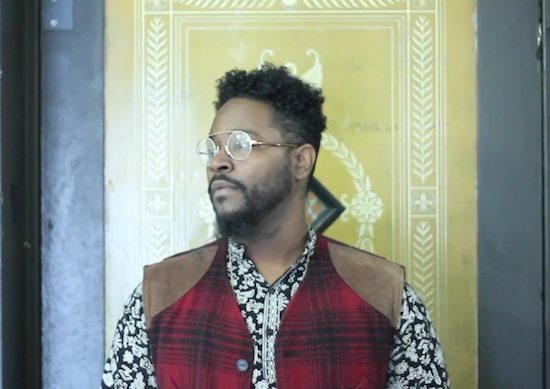 It's hard to believe that it's been two-and-a-half years since Chris Turner released his LOVElife Is a Challenge project. The collection has held up well, and is still going strong since that time. To remind folks about LOVElife and to get them ready for the onslaught of new music that he's got coming this year, Chris Turner has released a music video for the song "Brainstormin'," which SoulBounce is happy to world premiere today.
While he sings about a lost love who can't stay off his mind, Chris is caught up in his thoughts as he rolls solo throughout the visuals for "Brainstormin'." We see him arrive at an apartment building and wait for the elevator. Scenes of him singing into the camera and placards with words and pictures from the lyrics are mixed in, both in color and black and white. The sorrow of his solitude is palpable, but he remains hopeful with a smile here and a little herb there. The elevator ride ends before Turner even reaches his destination, and he calmly leaves the building.
Turner has our undivided attention in the clip, but the video's director is also of note. It's none other than fellow SoulBounce fave Jesse Boykins III lending his talents behind the camera. Together they've created a simple yet creative video that has us hoping that these two collaborate on more visuals in the future.
If you still haven't gotten your hands on LOVElife Is a Challenge, then accept this late pass and head to Amazon or iTunes to cop it now. Thank goodness there's no expiration date on good music.