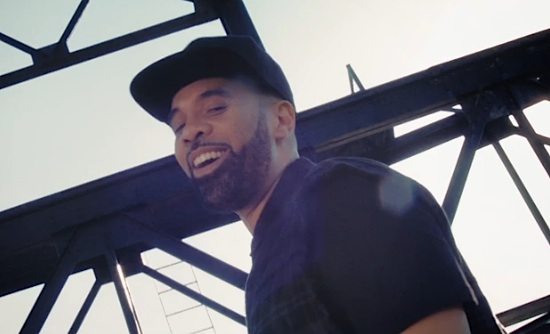 Temperatures outside are rising, but in case you need a little more heat in your life Russell Taylor delivers some of his own in the music video for "Electric." The song kicks off his impressive recent album release War of Hearts, and the uptempo groove might find you kicking up your heels on the dance floor. Instead of going that obvious route for the visuals, Taylor takes us to a building where there are some photo shoots happening. At one shoot we see a model who is totally over it and going through the motions in front of the camera. At another shoot we see Russell getting his Gordon Parks on behind the camera.
While the song's driving beat thumps and bumps, the model has had enough and storms out of her photo shoot while at Russell's shoot he sees the frustrated model through his lens but she's not the one actually in front of it. Freaky! Taylor gets to stepping, too, because he needs to go outside to get some fresh air and his mind right. They both wind up on the roof and their eyes lock, sparks fly and their chemistry is out of control.
Filmed on location last year in New York City, the video for "Electric" is Russel Taylor's fourth from War of Hearts following visuals for the title track, "Hope" and "Blueprint." We're loving everything we've heard and seen from Taylor thus far and can't wait to find out what other surprises he's got in store.
Something that we know for sure is coming up from RT is a show in LA this week. If you're in the Los Angeles area, then you can catch Russell Taylor live for an acoustic set at Hotel Cafe on Friday, May 8th. Tickets are on sale online from the Hotel Cafe's ticketing website and will be more at the door.