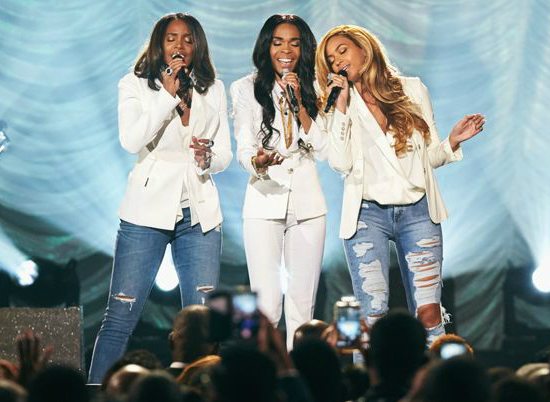 The hottest show in Las Vegas this weekend didn't involve showgirls, but it did involve superstars when Destiny's Child staged a surprise reunion performance at the 30th Annual Stellar Gospel Music Awards on Saturday, March 28th at the Orleans Arena. Michelle Williams was the catalyst for making this happen, with her song "Say Yes" featuring her DC sisters Beyoncé and Kelly Rowland receiving three nominations for Song of the Year, Urban/Inspirational Single or Performance of the Year and Music Video of the Year and Williams receiving a nod for the Albertina Walker Female Vocalist of the Year for her album Journey to Freedom at this year's awards.
"Say Yes" came out victorious in one category when Michelle and music video director and SoulBounce family Matthew A. Cherry took home the Stellar Award for Music Video of the Year during the Stellar Awards pre-show on Friday night. The ladies of Destiny's Child claimed the victory on Saturday, however, at the Stellar Awards taping when they opened the show and shocked the entire audience in attendance and set social media on fire with tweets, vines and Instagram photos and videos galore.
Michelle Williams basked in the spotlight dressed in an all-white pants suit and began singing "Always Remember Jesus" while Beyoncé and Kelly stood with their backs to the audience and harmonized with her. Soon Kelly and Bey turned around to fully reveal themselves and joined Michelle in the spotlight. The trio then launched into a spirited performance of "Say Yes" that had the saints up and out of their seats. It was a fabulous performance from Michelle, Kelly and Beyoncé, and it served to remind us just how much Destiny's Child, who haven't seen seen together on stage since February 2013 during Beyoncé's Super Bowl XLVII halftime show, is missed.
We'll have to wait until Easter Sunday when the Stellar Awards air on TV One to see their performance as well as performances by Erica Campbell, Deitrick Haddon, Yolanda Adams and many more. In the meantime, here is some behind-the-scenes information from this weekend's Stellar Awards festivities:
-- The Michelle Williams rehearsal on Friday was closed to the public and to much of the staff working the event.
-- Central City Productions' President and CEO Don Jackson let the cat out of the bag on the red carpet that Michelle Williams and Destiny's Child would open the show during press interviews.
-- Only Michelle Williams walked the red carpet, and she looked quite glamorous.
- Advertisement -
-- The Michelle Williams and Destiny's Child performance was recorded twice at the Orleans Arena.
Here's a snippet of Michelle, Kelly and Beyoncé singing "Always Remember Jesus" during Saturday's taping. The complete performance will air on the 30th Annual Stellar Gospel Music Awards when it premieres on TV One on Easter Sunday, April 5th at 6 p.m. ET with repeat airings at 8 p.m. ET and 10 p.m. ET.
- Advertisement -
- Advertisement -