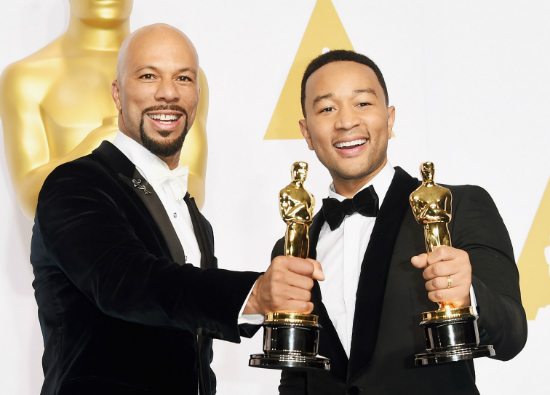 Last night's 87th Academy Awards were a rather staid affair with the biggest moments of the night provided by the musical acts. From Rita Ora's impressive showing to Jennifer Hudson's In Memoriam tribute to Lady Gaga's Sound of Music medley, there were a number of entertaining and engaging performances. But no performance was more powerful, meaningful or stunning than that of Common and John Legend who performed their Academy Award-nominated song "Glory" taken from the movie Selma right before the award for Best Original Song was bestowed upon their work of art.
Seated at a grand piano, Legend began the song with his commanding vocals before Common stepped on stage to kick his salient verses. It was the scene set on stage that added to the drama of it all, with the backdrop mimicking the Edmund Pettus Bridge in Alabama that was central to the film Selma and the Selma-to-Montgomery March during the Civil Rights Movement. As Com continued to rap, numerous men and women emerged from the shadows to represent the historic marchers and provide a heavenly choir of backing vocals. The scene and the message in the music was a phenomenal sight to see and hear on the Oscars.
Soon after their performance, the Best Original Song Oscar was awarded to "John Stephens and Lonnie Lynn" for "Glory." Those in the know know that those are John Legend and Common's real names, but for those not hip any confusion quickly passed when the two talents excitedly went back on stage to accept their award. Common and Legend both gave excellent speeches that spoke to societal ills and the continued need to change because the fight is far from over. John Legend said it best, "We wrote this song for a film that was based on events that were 50 years ago, but say that Selma is now because the struggle for justice is right now." Amen and congratulations.