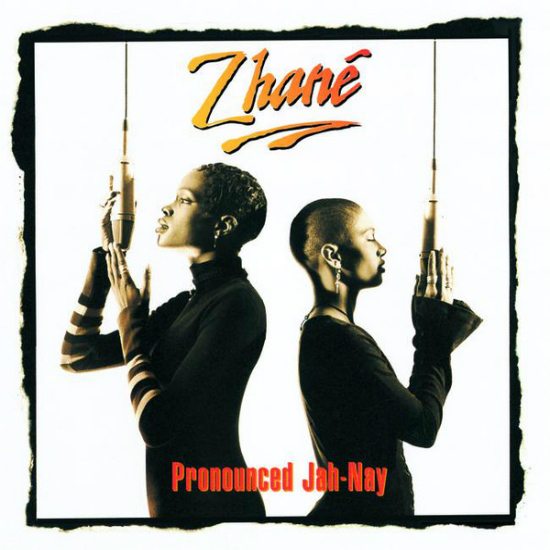 In 1994, when Renée Neufville and Jean Norris performing as the duo Zhané, dropped the hip-hop flavored/soulful R&B debut album, Pronounced Jah-Nay, I wasn't quite grown, but just hearing this album made me feel like I actually heard what grown sophisticated Blackness was like -- or what I imagined it would be when I grew up. It stirred up images of a New York City block party full of good looking people that looked something like the cast of Love Jones and New York Undercover mixed with all the employees of Eddie Murphy's ad firm in Boomerang. Their sound was equal parts smooth, fun and sexy.
Pronounced Jah-Nay boasted three certified hits, "Hey Mr. D.J.," which reached No. 6 in the U.S. Billboard Hot 100, "Groove Thang" (U.S. No. 17) and "Sending My Love," which just broke the Top 40. The more hip-hop centric, R&B hits on the album were all produced by Kay Gee of Naughty By Nature. What made each so potent was their profound sense of balance. Zhané's sound tip-toed effortlessly on a tightrope between sophisticated R&B and hip hop, feel good and melancholy, party music and jazz.
That balance was reflected in the music landscape of the time, where radio DJ's weren't forced to play the same seven songs 24 hours a day. You could hear the rawness of Notorious B.I.G.'s Ready to Die, the grittiness of Nas' Illmatic, and the funkiness of Rappin' 4-Tay's "I'll be Around" on the same station as Mary J. Blige, Mint Condition and The Brand New Heavies. The playing field to hear a rich and varied selection of Black music was much more balanced for the DJ then. And I'm sure it's the overt nod to the DJ in Zhané's first single that helped radio and club DJ's around the world to embrace Zhané's "Hey Mr. D.J," the fastest gold-selling record in the history of Motown Records at the time.
The single, which was first recorded and released on a compilation prior to the recording of the album, was the tipping point for national attention, and a bidding war from labels, which led Neufville and Norris to fast-track writing and recording the album with Kay Gee. Fortunately, both artists were more than just pretty voices with a unique style, but they were talented well-rounded musicians, both writing and arranging much of their own music, and organically created an R&B sound with a jazzy-rare groove quality.
Completing the album they were able to create more hits with the highly infectious "Groove Thang" and the soulfully hypnotic "Sending My Love," each track emanating the essence of cool. It's like Zhané was able to capture the cool that was in Janet Jackson's "That's the Way Love Goes" video and discovered a formula to diffuse that throughout an entire album.
What made their album, and not just their lead singles, so timeless was that their "B-sides" were as strong, if not stronger, than their singles. Those who actually went out and bought Pronounced Jah-Nay were fortunate to discover their adeptness at composing ballads as well as pop hits. Tracks like "Changes," "Off My Mind," "Sweet Taste of Love" and "For a Reason" demonstrated the depth of their vocal chops, their ability to produce highly emotive slow songs and skillfully and originally create tracks that reflected a sophisticated understanding of how to shape songs using jazz, classic and more adult contemporary sounding R&B stylings. Between the more pop oriented party singles and more personal R&B tracks Zhané created an album that was  entertaining as well as substantive.
With Pronounced Jah-Nay, Zhané created a soundtrack with an arresting smoothness that could both pull you on to the dance floor or set the mood in the background. Zhané was versatile, and their ability to intricately fuse hip hop, soulful R&B and jazz not only made a timeless album, but it was a precursor to the neo-soul movement, which would explode a few years after Pronounced Jah-Nay was released but owes this collection and these artists a huge debt.
- Advertisement -
Zhané Pronounced Jah-Nay [Amazon][iTunes][Google Play][Spotify]
- Advertisement -