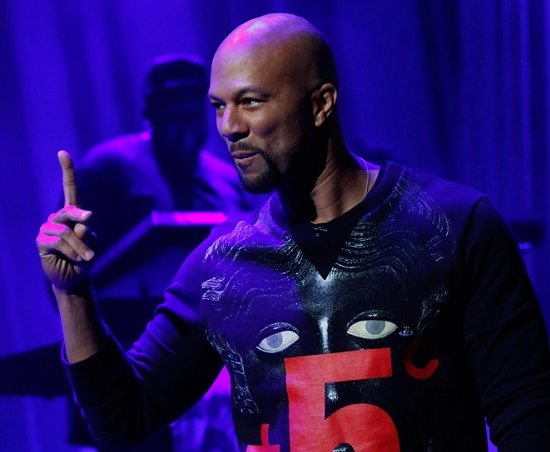 The Queen Latifah Show always has its fair share musical guests, but today's guest is a bit different than others, mainly because of his history with Queen Latifah. Common, whom you'll recall played the Queen's love interest in the sports romantic comedy Just Wright, stopped by Big Sexy to chat with the host about his endeavors and also bring a much-needed dose of hip hop to the show.
While the two nearly reenacted a romantic scene from Just Wright, Com took the stage to perform his latest single from his current album, Nobody's Smiling, "Rewind That." While the song, with its jazzy, soulful sound and its tribute to Com's longtime friend and collaborator No I.D. and late great producer J Dilla, is one of the album's better tracks, the rapper made some interesting adjustments to the song while performing it on national television. In a few places, Com stops rhyming to reenact moments from his relationship with Dilla, effectively combining both his acting with his rhyming. It's an interesting approach to be sure, and the in-studio audience and Queen seemed to be eating it up with a spoon.
Check out the performance right here, and to see the rest of Com's appearance on Queen Latifah, check your local listings to see what time the show airs in your area.