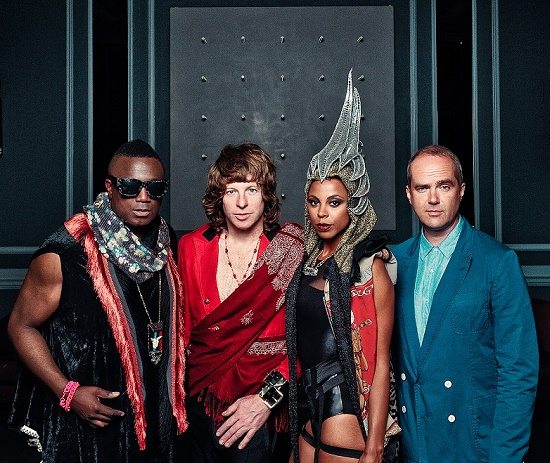 It seems like just yesterday that we were jamming to the sounds of The Brand New Heavies' last album, Forward. Perhaps because it was just last year. But with a band as amazing as The Heavies, a year between albums feels like a short eternity. The band, which will mark its 30th anniversary next year, knows what the fans want and returns this year with yet another new album, Sweet Freaks, and it promises to deliver a funky and fun treat for fans and newcomers alike.
Sweet Freaks features a lot of the Heavies' signature sounds, evident on tracks like "Bring the Rain," "You Are the Fire" "In the Name of Love" and "'95 Tonight," which is sure to delight. And the addition of new lead singer Dawn Joseph to the group's core members, drummer/keyboardist/vocalist Jan Kincaid, bass player Andrew "Love" Levy and guitar player Simon Bartholomew, adds a new layer to the proceedings. As well, the Heavies venture into new territory with a pair of inspired covers. They take on Peter Gabriel's "Sledgehammer" and En Vogue's "Don't Let Go," providing unexpected renditions that are sure to catch fan's attention.
"We, The Brand New Heavies, are very excited to be releasing our new album with new singer and amazing gift Dawn Joseph who appeared out of a dream," The Heavies said in a press release. "It's freeeky, but Sweet - We hope you love it."
Anxious to hear what they've cooked up? Well you don't have to wait until release day to get your ears around The Brand New Heavies new sounds. SoulBounce is proud to exclusively world premiere the album's first single and title track "Sweet Freeek." The disco-tinged track finds the group sounding tight as ever, with Dawn Joseph taking charge with a sugary vocal as the guys lay a foundation of wiggling bass, playful rhythm guitar, drums to get you moving and a horn arrangement that is nothing less than what we've come to expect from the acid jazz pioneers.
Sweet Freaks will release in the UK on Monday, November 3rd, and will have its official stateside arrival on November 24th. Get ready to groove when you take a listen to "Sweet Freeek" below.
- Advertisement -