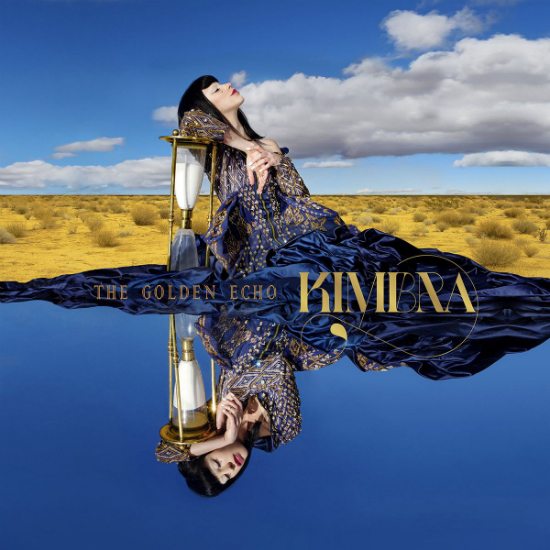 While it's fair to say that Kimbra's career was already headed in the right direction, the monster worldwide hit "Somebody That I Used To Know," which she featured on alongside Gotye in 2012, catapulted her name onto millions of people's playlists. The rarefied air that accompanies success can sometimes play tricks on people, so it is a wondrous thrill to discover that Kimbra has taken the opportunities that the exposure provided and run with them. Now on her solo sophomore set, The Golden Echo, she has produced an album filled with ambitious, interesting and intelligent music. While not every single song succeeds, what is never in doubt is the sheer scale of ambition and the willful desire to take things in unexpected directions.
In much the same way that Janelle Monáe's The Electric Lady came stuffed full of illustrious collaborators, The Golden Echo boasts John Legend, Matt Bellamy from Muse and bass god Stephen "Thundercat" Bruner, to name just three. Whereas Monáe controlled this melange with her sci-fi Metropolis concept and unwavering commitment to it, so Kimbra holds this collection together with her adaptable voice and the desire to never settle for anything less than delightful. The musical DNA of these collaborators is there in hints and touches, but there is never any doubt whose album this is.
This refusal to settle for anything ordinary is reflected in the lyrics. A desire to "be delivered" or for things to be "sacred" raises its head several times, and it is a long time, if ever have, since I last heard the word "sacrosanct" in a pop song. It's clear Kimbra has heavenly ambitions, and for the most part she reaches them by producing some sublime pop moments, some funk of the finest kind and a few moments that are indefinably weird, yet beautiful.
Take the album opener "Teen Heat" as a case in point. The genteel, hesitant verse gives way to the expansive and recklessly soaring chorus that reflects teen infatuation in all its glory and awkwardness, yet first single "90s Music" is a curious beast and is equally likely to impress and infuriate. Matt Bellamy's strident guitar pokes through all too briefly until Kimbra cannot resist yet another soaring section of vocals. "Carolina" comes and goes, closer in spirit to Fleetwood Mac's "Caroline" than Shaggy's "Oh Carolina," though funkier than the group would ever dare and "Goldmine" is as close to a straight up electro-soul song as you'll get here, replete with Timbaland-esque clicks and tricks and what sounds like a truculent Transformer shapeshifting.
"Miracle" is a bonafide disco floor filler, underpinned by Thundercat's rumbling, bubbling bass which wobbles into earshot straight away and is destined for a million funked up or chilled out remixes. This tale of love lifting higher is instantly likeable but is surpassed by what comes next. "Rescue Him" is a slinky, insidious, crawling beast of a song with Kimbra's voice sounding vaguely threatening despite her offering to rescue the man in question. The line "They think I'm wasting my time, making a home in his calamity" tells you all you need to know about that gentleman, yet still she persists in saving him. This gut busting one-two is completed by "Madhouse," a perfect maelstrom of Minneapolis funk legends -- part Prince in his early '80s peak of perfection, part Jimmy Jam and Terry Lewis concoction, this is funk writ large. From Thundercat's impossibly rapid bubbling bass, to the clean-as-a-whistle percussion snap this wouldn't look out of place on Janet Jackson's Control or Sheila E.'s The Glamorous Life. The funk is alive, and it lives inside a slight girl from New Zealand. Who knew?
Soul singer Bilal pops up on "Everlovin' Ya" and lends his impeccably eerie vocals to this symphony of ever-so-slightly warped, left over sci-fi film sound effects. While the song is ostensibly about love, the vocal delivery and composition lend it an otherworldly, weirdly compelling feel that unsettles rather than soothes. "As You Are" is a highlight of the whole album -- a gloriously orchestrated and strange creature led by a simple piano riff but interspersed with insurgent choral voices and surging strings. When she sings "Come inside, it'll be alright," that thought couldn't be further from my mind as it has a predatory, unsettling effect.
The final three songs encapsulate everything about the album: the aspiration, the lyrical dexterity and the unwillingness to settle. "Love in High Places" is a frankly bizarre, yet brilliantly unquantifiable piece of music, part funk, part prog rock (and, yes, I realize how ridiculous that sounds). And to prove she really is that willfully obstinate, Kimbra follows that incalculable weirdness with what can only be described as pop perfection. "Nobody But You" is a heady cocktail of unbridled joy finding Kimbra singing "I've finally found the nerve this time" and just when you think that peak has been reached, the final part of the song includes a total head shag of a breakdown featuring bass that should be illegal in several states. The album closer "Waltz Me to the Grave" is an enigma. Part soothing soul song, part Broadway show tune and all Kate Bush like in its reach and scale. Whether it succeeds or not is debatable, but the ambition and aspiration remains.
- Advertisement -
The Golden Echo is the sound of an artist who has a copy of the rule book, but has duly decided that some pages don't belong there and has ripped them up. The album is constantly difficult to categorize and wrap up in neat little packages due to it's dizzying array of styles. Some of it is for the dance floor, while some of it belongs in that dark little corner of your heart that you don't talk about, but all of it merits listening to. Find a space and explore, Kimbra certainly did.
Kimbra The Golden Echo [Amazon][iTunes][Google Play]


- Advertisement -