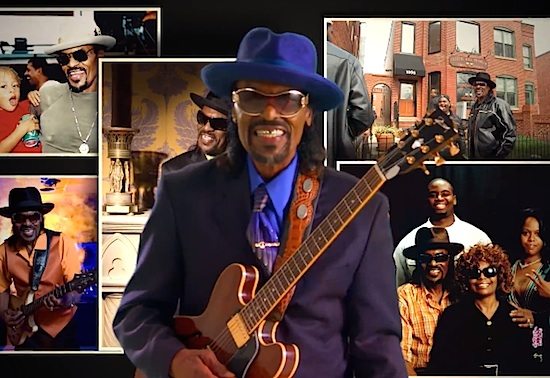 It's hard to believe that two years have passed since we lost the venerable Chuck Brown. The DC music scene (and the city as a whole) just isn't the same without him. Yet the Godfather of Go-Go still manages to keep us smiling and dancing in a special way that only he could with the posthumous video for "Beautiful Life."
What made Chuck special went far beyond his musical abilities. He had a joie de vivre that was so infectious, you can still feel it just by following him on screen. That what's makes this video such a treat to watch. Even if you're not from the DMV and don't recognize the street names or landmarks, you can't help but smile as you see clips of Chuck performing at some of his numerous DC gigs or interacting with local residents. What makes it even more special is the inclusion of his family. Sons Nekos and Wiley are seen prominently throughout the video (notably, holding his guitar towards the beginning), and his grandchildren and other family members make appearances as well. To cap off the family affair, Chuck's daughter KK steps in for Wale (who is featured on the album's version of the song), and provides a touching lyrical verse, fittingly shot on location at the recently opened Chuck Brown Memorial Park. As the music fades and the screen briefly goes black, one final scene -- a chorus of fans declaring "We love you, Chuck!" -- brings it all home. A fitting tribute, indeed.
The Beautiful Life album, which also includes appearances by Doug E. Fresh, Faith Evans, Raheem DeVaughn, Sugar Bear, The Chuck Brown Band and Y'anna Crawley is available on iTunes and Amazon.