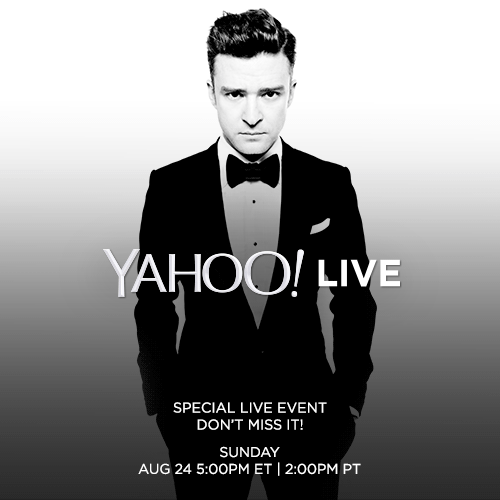 Have you been keeping up with the daily dose of live music events coming from Yahoo! Live? In the event that you missed Common's Nobody's Smiling album release show last month or John Legend's phenomenal Marvin Gaye What's Going On tribute concert a few days ago live streaming on Yahoo! Live, then don't be the same fool thrice. Especially if you're a Justin Timberlake fan.
Unlike most of his pop counterparts, JT won't be at Sunday night's 2014 MTV Video Music Awards, but that's because his 20/20 Experience World Tour is still making its way around the world and he's got a gig that night -- in Iceland. Sure, Iceland isn't exactly around the way for the majority of us -- and the show is sold out -- but there's no need to despair if you'd like to attend and can't. That's where Yahoo! comes in, who'll be streaming this concert online on Yahoo! Screen brought to you by Yahoo! Live and Live Nation. You can enjoy seeing Justin and get The 20/20 Experience World Tour experience straight to your computer or mobile devices on Sunday, August 24th starting at 5 PM ET/2 PM PT.
If you haven't had the opportunity to catch a live show on Yahoo! Live yet, then let this be the weekend that you start. While you're pre-gaming for MTV's VMA festivities, watch Justin Timberlake and his band The Tennessee Kids in all their glory before they take a break prior to traveling to Australia and New Zealand in September and October. Tune in to Yahoo! Live on Sunday to watch JT and company turn up and turn it out.