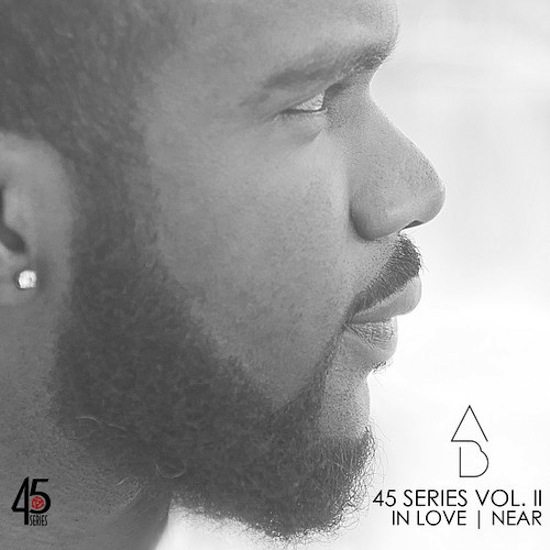 The prolific singer/songwriter/musician/composer Aaron "Ab" Abernathy kicked off 2014 with a new project, the 45 Series, to pay homage to "the classic, timeless and golden era of soul music" and those good old 7-inch vinyl record 45s of yesteryear that had "A" and "B" sides. If you're too young to remember such things as 45s and A/B-sides, then Ab is bringing that old thang back in digital form.
The first entry into the series was 45 Series, Vol. I with the drop of the combo "Stop Fakin'" and "Stevie's Lament" back in January. "Stop Fakin'" found Ab calling out a lame young lady and kicking her to the curb to a head-nod worthy groove. You can hear shades of D'Angelo on "Stop Fakin'," so if you're missing the elusive singer and his phantom new music, then Ab is here to gladly fill the gap. The B-side to that volume, "Stevie's Lament," provided a chill instrumental cool down.
Fast forward to this week, and Ab has released 45 Series, Vol. II with the duo "In Love" and "Near." Woozy synths intro "In Love" before additional instruments are added into the mix. The instrumentation is reminiscent of Stevie Wonder's output in the '70s as Ab pours his heart out to his woman and professes how in love with her that he is.  The B-side "Near" is more like an interlude than a complete song with Ab repeating one lyric throughout, but it is as sweet as it is short and has us yearning to hear more.
We may have to wait a few more months for the next volume in the 45 Series, but after hearing what he's brought forth thus far, whatever Ab has on deck will be well worth the wait. Listen to 45 Series, Vol. I and II right here, and pick up both singles on iTunes.
If you're in the Washington, DC area on April 15th, Ab will be opening up for Black Milk at U Street Music Hall that night as well as accompanying him as part of the band Nat Turner at that show and dates in New York City, Boston and Chicago.
- Advertisement -