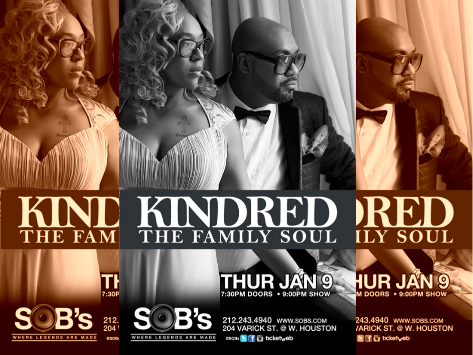 For our first giveaway of 2014 we're hooking NYC Bouncers up to see one of our favorite groups here are SoulBounce,
Kindred the Family Soul
. The husband and wife act will be performing at
S.O.B.'s on Thursday, January 9th
and ushering in this new year with their perfect blend of soul and comedy. I swear these two need a television variety show, but until that dream comes to pass you can catch
Aja
and
Fatin
cutting up and getting down. Our S.O.B.'s fam has given us a pair of tickets to give away to this show, and all you have to do to win is fill out the entry form and cross your fingers. Tickets are also on sale now at the club's box office and online at
TicketWeb
.
Center
To enter the SoulBounce/S.O.B.'s Kindred the Family Soul Concert Ticket Giveaway:
Enter your COMPLETE NAME, EMAIL ADDRESS, MOBILE PHONE NUMBER and ZIP CODE into the form below.
Entries will only be accepted between the hours of 6 pm on Thursday, 1/2 until 12 noon on Wednesday, 1/8.
One entry per person.
If you have won a contest/giveaway from SoulBounce in the past 30 days, you are ineligible to enter.
All entries that do not adhere to the above stated guidelines will be disqualified.
Entrants must be in the New York City area or vicinity and available to attend a show at S.O.B.'s located at 204 Varick Street on Thursday, 1/9 at 9 pm (doors open at 7:30 pm).
One winner will be chosen at random from all eligible entrants on Wednesday, 1/8 to receive a pair of tickets to the show.
The winner will be notified by email and/or mobile phone by Wednesday, 1/8 and provided with further details.
Thanks for participating and good luck!