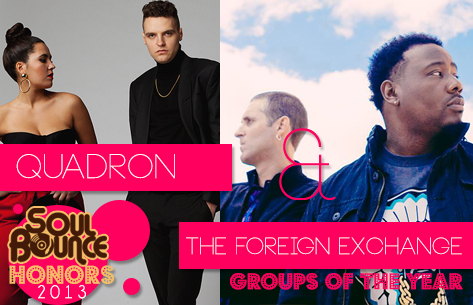 A great philosopher once said, "It's takes two to make a thing go right. It takes two to make it outta sight." OK, so maybe that philosopher was the rapper
Rob Base
and those are the lyrics to the hip-hop classic "It Takes Two." Yet and still, when it came to the groups that razzled and dazzled us the most in 2013 there were two who got it oh so right and made it hard to choose between them for the best of the bunch. With both camps providing much music and many memories this year, it was only right to crown two winners as Groups of the Year, and it was clear that those winners had to be the duos
Quadron
and
The Foreign Exchange
.
Center
The king and queen of Quadron, Robin Hannibal and Coco O., first appeared on our radar in 2009 when we rightfully deemed them Bounce-Worthy after hearing their brand of breezy electro soul on their self-titled independent debut album. Over the years the rest of the world caught on to what we knew from first listen, and they caught the attention of major record labels, finally deciding to sign with Sylvia Rhone's Vested In Culture imprint. After an extended wait for new music, Quadron finally released their sophomore album and major label debut in 2013, and it proved to be well worth the wait.
Contrary to its title, Quadron's Avalanche was more of a quiet storm. Producer Robin Hannibal, who had his hand in so many projects this year alone including his other duo Rhye and records by Yuna and Laura Welsh, saved some of his best and brightest material for Coco O., who also branched off to work with Tyler, The Creator on his "Treehome" and release the solo track "Where the Wind Blows" on The Great Gatsby soundtrack, to wrap her silken vocals around. The majority of Avalanche sounded like what we had grown to love from Quadron with songs like "LFT," "Neverland" and "Avalanche" feeling like home and "Better Off" featuring Kendrick Lamar becoming an instant favorite. The first single "Hey Love" was the biggest sonic departure, but its difference from what the duo was known for was what made it endearing in addition to the song just being downright fun. A handful of television appearances and live shows sprinkled throughout the year kept the Quadron fires burning, and we're looking forward to their upcoming tour with Mayer Hawthorne and the release of more singles from this unsung album.
Where Quadron kept it cool, calm and collected, the two kings ruling The Foreign Exchange declared that this was the year to turn up. Phonte and Nicolay turned the corner after 2010's introspective Authenticity in 2013 with a pair of albums that brought the joy and groove back to their music that many fans were missing. January brought the announcement of a then forthcoming remix compilation, +FE Music: The Reworks, and their fourth studio album, Love In Flying Colors and the first piece of new music from Team +FE with the single "So What If It Is." The soulful house jam was what we'd been waiting for from Tay and Nic. They took us for a twirl on the dance floor and kept us there with more remixed selections from The Reworks. The refixes on this set were great, but what we were all anticipating was another collection of new classics from the fellas and delivered the goods in September.
Love In Flying Colors was the sunshine to Authenticity's rain. The first single "Call It Home" was like a rainbow after the storm with its ambient electro soul groove and uplifting lyrics. Non-album cut "Pity" was released as the B-side, and it featured Phonte on vocals and verse and bridged the gap between the two albums. Partners in crime Nicolay and Phonte gathered together another winning cast to bring Love In Flying Colors alive, with Sy Smith on the retro groove "Right After Midnight," Eric Roberson, Carlitta Durand and Jeanne Jolly returning and new collaborators Carmen Rodgers, Gwen Bunn and Shana Tucker added to the mix. They followed the album release with a few sold-out concert dates and the promise of a world tour in 2014 and more singles and music videos.
As different as Quadron and The Foreign Exchange are in look, sound and journey, they are both very much the same in that they continue to produce quality material despite their increased profiles and success, are beloved worldwide, put out two of the finest and original albums this year and are quite deserving of SoulBounce Honors as 2013's Groups of the Year.
- Advertisement -