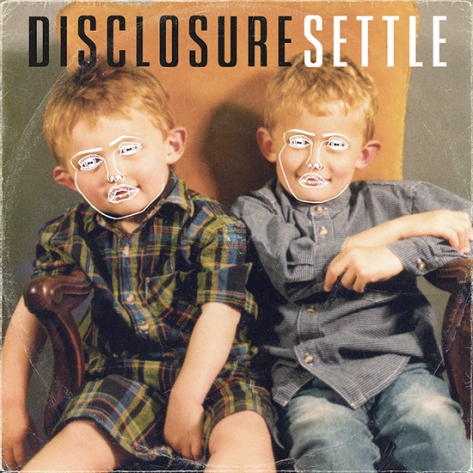 So much for coasting into 2014. This year is going out like a lion with more new music roaring into our collections. UK house sensations
Disclosure
who've taken the EDM world by soulful storm in 2013 just snagged a GRAMMY nomination for Best Dance/Electronic Album for their brilliant debut
Settle
. They've certainly got our vote, but in case you've been sleeping on the Lawrence brothers then you can plan to wake up when they release a reloaded
Settle
next week. UK Bouncers will get the 18-track
Settle Special Edition
on December 16th, while US Bouncers have to settle for the 15-track
Settle - The Remixes
on December 17th. The US edition might be a day late and three tracks short, but both projects will feature all the same songs minus two "Boiling" remixes and a "Control" remix. The new and improved
Settle
package will include the groove
"Apollo"
and
"Together"
featuring the dream team of
Nile Rodgers
,
Sam Smith
and
Jimmy Napes
as well remixes from
DJ Premier
,
Kaytranada
,
Hudson Mohawke
,
Bauuer
,
T. Williams
,
Wookie
and many more. Thanks to the magic of SoundCloud we've been able to hear some of these remixes, and this project is officially going to be a problem if DJ Premier's slowed down, body roll-inducing take on "Latch" and Kaytranada's thumping "January" remix are representative of what else is in store. We surely can't wait to find out.

Center
Disclosure Settle Special Edition tracklist:
01. "Apollo"
02. "Boling (Dixon Remix)"
03. "Boiling (Medlar Remix)"
04. "Control (Joe Goddard Remix)"
05. "F For You (TEED Remix)"
06. "Help Me Lose My Mind (Paul Woolford Remix)"
07. "Help Me Lose My Mind (Larry Heard Remix)"
08. "Help Me Lose My Mind (SOHN Remix)"
09. "January (Kaytranada Edition)"
10. "Latch (DJ Premier Remix)"
11. "Latch (T. Williams Remix)"
12. "Stimulation (Preditah Remix)"
13. "Voices (Wookie Remix)"
14. "When A Fire Starts To Burn (Midland Remix)"
15. "White Noise (Hudson Mohawk Remix)"
16. "You & Me (Flume Remix)"
17. "You & Me (Baauer Remix)"
18. "Together