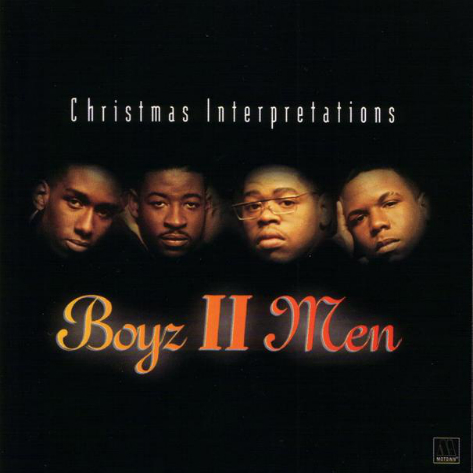 It seems as if the holiday season starts earlier and earlier every year with retailers stocking Halloween and Christmas decorations on the shelves at the same time. As for me, I'm cool with Thanksgiving signaling the official kickoff to the holidays, and then and only then will I break out all the trappings of the season, namely my favorite Christmas songs and albums. One such album was released 20 years ago and has stood the test of time with its songs barely showing any wear and still sounding modern and fresh despite its 1993 release date. Boyz II Men's Christmas Interpretations is that album.
In 1993, the quartet comprised of members Wanya Morris, Nathan Morris, Shawn Stockman and Micheal McCary were still riding high from the success of their debut album, 1991's Cooleyhighharmony, thanks to a reissue with additional tracks that was released earlier that year. That reissue wouldn't be their only album to come out in 1993, with Christmas Interpretations hitting shelves in October of that year. That point in time was my senior year of college and between midterms, homecoming activities and trying to make the grades to graduate, it would take another month and half for me to get into the Christmas spirit. And being the Boyz II Men stan that I was at the time, this album was just what I needed to get me into a gift-giving groove.
Unlike most other soul/R&B Christmas albums at the time, Boyz II Men's Christmas Interpretations included only one holiday standard with the majority of the collection being original compositions. The lone cover was their take on the carol "Silent Night," and their version bookended the collection with a short intro to begin the set and a reprise at the end to close. BIIM went the traditional route for their version of "Silent Night" instead of putting their own twist on the song like The Temptations did with their definitive rendition. Although Boyz II Men's "Silent Night" was by the book, nothing was lacking in their presentation with the fellas sounding like an angelic four-man choir.
Everything else on Christmas Interpretations was penned by the group members and Brian McKnight who collaborated with them on two songs from the album, one of which was the single "Let It Snow." In addition to co-writing "Let It Snow," Brian McKnight joined Wanya on lead vocals, contributed to the background harmonies and made an appearance in the song's music video with the guys and their girls as everyone gathered together for a cozy Christmas. "Let It Snow" was a Christmas love song perfect for getting snowed in with a loved one.
Not only were the majority songs on Christmas Interpretations original, but they were predominantly slow jams. Yes, Boyz II Men crafted a Quiet Storm ready Christmas album with songs of yuletide love and holiday heartbreak that you could either cuddle up with your boo or cry into your egg nog to. Nate, Mike, Shawn and Wan spoke to those of us who weren't decking the halls or ringing sleigh bells on tracks like "You're Not Alone," "Cold December Nights" and "Who Would Have Thought." The tracks could have easily been remade into non-holiday songs with a few words or lyrics changed here or there.
Twenty years later, it can't be said that any of the songs found on the album went on to become classics, but that doesn't take away from the overall greatness of Christmas Interpretations. This is still a collection of solid songs for the season that don't sound at all dated and will get you into the Christmas spirit or speak to your heart if you're nursing a broken one around the holiday season.
- Advertisement -
- Advertisement -