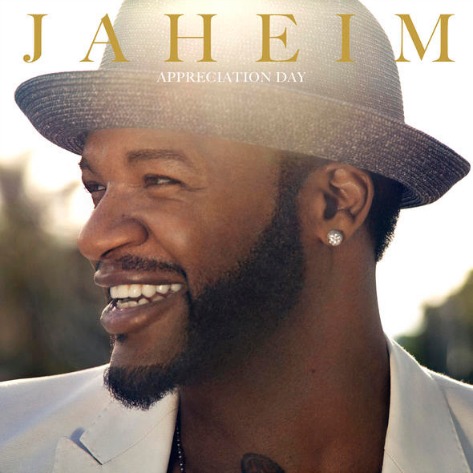 Back in May,
Jaheim
dropped a surprise new single, the first to be released from
Appreciation Day
. I, like his many fans, eagerly anticipated the arrival of his sixth studio album. Fans had a right to be excited about his return, and if the response to
"Age Ain't A Factor,"
was any indication, they surely were. When Jaheim dropped 2010's
Another Round
, it was as if he'd graduated from the minors to the majors. He was decidedly more mature, in appearance and in his content. He went from braids, du-rags and wife beaters to a fade, designer coats and silk scarves. Although it took a minute to get used to Mr. Hoagland's new look, the evolution seemed timely and appropriate, and the sound was right. I naturally expected the next phase of his evolution to be just as satisfying, but what he's delivered is not quite what I was anticipating.
Center
Appreciation Day kicks off on a strong note with the popular first single "Age Ain't A Factor." Even though the lyrics are slightly comical, it's fun, and it was a good way for him to step back on the scene. But if I thought my side-eye to his song lyrics would get a rest, I had another thing coming (although a few songs provide momentary relief). With the second track, Jaheim dishes a dose of reality for women who are holding out for the perfect man because "He Don't Exist." Making use of a sample from Shirley Murdock's "As We Lay" on "Morning" he makes it clear what his plans are for the night until the sun rises again. The sample is enjoyable, but it's here where the cracks start to show.
With the fourth track, the album begins to drag a bit as he plays translator on "What She Really Means." However, the caffeine shot comes with the most controversial track on the album, "P**** Appreciation Day." Yes, folks, that's right. If he had his way, that probably wouldn't been the real title of this album. Here I was thinking he'd stick to the formula with a few uptempos and deliver a few solid love songs in only the way he can, but no. He changed it up by stepping out a slightly bolder foot. Jaheim had something else he mind. He's grateful for women but really thankful for something more. I know I wasn't ready, but I clutched my pearls and carried on. At times I didn't know if he talking about donuts, swimming or a cozy blanket, but I suppose the hook provides the needed clarification. The music and his voice are on point, and if you could somehow unhear the lyrics, it would be a good song. But, there are the lyrics, which exhibit a problem I have with this album.
Jaheim comes across as a number of things, but I've never seen him as a sex symbol. He's been marketed as a rough around the edges Luther Pendergrass who just wants to share his "Ghetto Love." Yet on the album's weaker songs, "they" (the man and them) keep trying to sell this vision of a sex king, and I'm not buying. Some of these attempts are downright juvenile ("Sexting") and just unconvincing in others ("Shower Scene"). I prefer the Jaheim that flirts with sexy or sweet love songs, but not the one who is trying to force feed these late stage ideals of being a sex "Genius." I wish these antics would be left to the R. Kellys, Miguels and Raheem DeVaughns of the world. It works for them, and I don't think it works here.
While some songs induce eye rolls and raised eyebrows, too many are rather unremarkable. "I Found You" is acceptable, but I don't see it getting much individual play. "First Time" is another track that falls short on the lyrics as showering a woman with her first luxury items is compared to the loss of virginity, and the repeated references are disturbing.
Thankfully there are some bright spots. "Baby x3" may be the album's best track, and the visual makes it that much more compelling. The track most aligned with the "Jaheim sound" is "Sticks N Stones" partly due to the consistency of what has become a signature sound of his background vocalists. "Blame Me," while not as strong as "Baby x3," is solid and surely speaks the life of those going through a rough break up. Jaheim induces chills from the start on "Florida" with his Ronald Isley style intro. As he recalls Trayvon Martin's tragic story, recites the timeline of that fateful day and calls out his parents Sybrina Fulton and Tracy Martin by name, the song and his call for an answer to what's going on almost becomes too much to bear. This song proves to be the album's sharpest moment.
Appreciation Day closes with "Chase Forever," which is just plain stalkeriffic. "Why you acting like you don't see me girl/You can run baby, run, run fast as you can/'Til the hourglass runs out of sand/(I'll chase forever girl)/Gonna chase you forever girl/'Til you run out of excuses or run out of breath/I'll be right there to mirror your steps/(I'll chase forever girl)/Gonna chase you forever girl." After that, a woman's voice chimes in and sings "I'll chase you forever." How depressing. Is he really saying that no matter what she does, he's not going to let her get away? Don't people go to jail for that? While not posited to be the classic The Police's "Every Breath You Take," it brings to mind that type of dark, suffocating undertone, clothed in non-offensive, and maybe even slightly attractive, garb. Before you know it, you too will be singing "I'll chase you forever," sounding like you need to spend some quality time in the pokey. It plays as an attempt at romanticism gone wrong.
It's easy to forget, but Jaheim's first two albums were great successes. His debut, Ghetto Love, went double platinum, and the follow-up, Still Ghetto, went platinum. He's had many hits over the years, and is one of the reasons why he's regarded as one of the most underrated voices in the industry today. The man has a voice that soars regardless of the content, but to have a legitimate claim to the throne, the music has to match up. Although there are a few good tracks, Appreciation Day ultimately falls short. Fans will likely support him no matter what, but to move beyond his core base, the album needed more substance and less filler.
- Advertisement -
Jaheim Appreciation Day [Amazon][iTunes][Google Play]
- Advertisement -