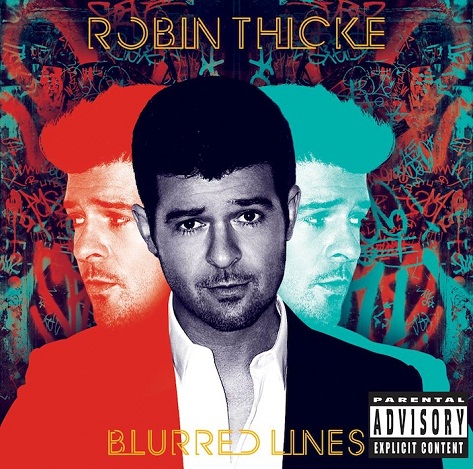 When
Robin Thicke
's
"Blurred Lines"
dropped back in March, the
T.I.
and
Pharrell
-featuring throwback to
Marvin Gaye
's "Got to Give It Up" seemed fun enough, but it quickly proved more than just fun as it broke airplay records and secured its place in the top 10 of Billboard's Hot 100 (eventually lodging itself in the No. 1 spot). Perhaps what propelled "Lines" up the charts was Robin's willingness to shed a bit of the balladeer persona he has been known for and play around with his sound and image. It's that kind of playfulness that permeates much of his latest album, also titled
Blurred Lines
, and ultimately makes it the R&B soundtrack of the summer and maybe even one of the best mainstream R&B albums to be released this year.
For his sixth studio effort, the blue-eyed soulster enforces his R&B sensibilities with a pop sheen that works very well with Thicke's soulful delivery. Whether's he channeling the best of the '80s (the heavily Michael Jackson and Stevie Wonder influenced one-two punch of "Ooo La La" and "Ain't No Hat For That"), tackling a breezy summer jam ("Go Stupid 4 U") or even flirting with EDM ("Feel Good"), Robin is assured and confident and doesn't seem to miss a step. It's a versatility that was sorely missing from 2011's Love After War and a welcome change of pace.
That's not to say that the album is without its less than stellar moments. There are moments that Robin ramps up the "creepy guy in the club" factor that is only slightly hinted at on the album's title track. Though it's still fun, "Take It Easy on Me" hews way to close to Justin Timberlake's sound (perhaps because it's produced by Timberlake's chief collaborator Timbaland). Elsewhere, the buzzy "Give It 2 U," produced by Dr. Luke and Cirkut and co-written with will.I.am., finds Robin and guest Kendrick Lamar taking turns at testing how lewd they can be (and the remix of the track found on the album's deluxe version ups the ratchet ante with an unnecessary 2 Chainz feature).
Outside of "Top of the World," where Robin convincingly sing-raps, the remainder of the non-deluxe version of the album is rounded out by Robin's bread and butter: ballads. "4 The Rest Of My Life" is a silky smooth slow jam that's obviously about his wife Paula Patton (though it's pretty much guaranteed you'll be hearing it at a few wedding receptions for months to come). "The Good Life" continues the narrative started by "4 The Rest Of My Life," letting his love know that he doesn't need all the trappings in order to live the best life with her. While neither is reaching the level of "Lost Without You," they're both still solid ballads that show that, while trying on a few different styles, Robin hasn't forgotten what made people fall in love with him in the first place.
By keeping Blurred Lines at a concise 11 tracks (14 for those of you who copped the deluxe edition for the bonus tracks -- of which only "Pressure" is a true keeper), Robin corrected one of the main problems of his last release. But his decision to diversify his style and change up his formula is what really makes the album shine. Taking listeners from first encounter to first date, from love to lust, from the dance floor to the bedroom, Blurred Lines is a great showing and one that certain other pop/R&B artists should definitely be paying attention to.