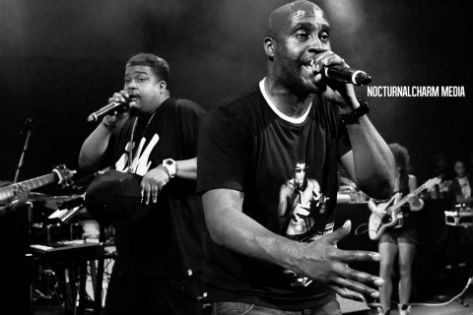 De La Soul
, who release their long-awaited new album
You're Welcome
later this year, admitted that they waited for almost a decade to record because of
J Dilla
's absence.
Plug One
and
Plug Two
of De La made a stop in Washington, DC on July 10th as headliners of the DC Loves Dilla tribute. Hedrush Music in partnership with the Hip-Hop Theatre Festival and Heineken presented the 8th Annual DC Love Dilla concert and fundraiser with musical direction provided by
Jon Laine
and featuring artists such as rappers
Awthentik
,
XO
,
Oddisee
,
Wes Felton
and
Substantial
and soul songstresses
Muhsinah
,
Yahzarah
,
Wayna
and
Maimouna Youssef
. Singer
Bilal
performed a jazz-laced freestyle tribute accompanied by an incomparable violin overlay from composer and producer
Miguel Atwood-Ferguson
.
Center
When De La Soul hit the stage, the group ignited the Howard Theatre crowd with J Dilla-produced tracks such as "Stakes is High," which moved the crowd to rhyme together in unison. Once Plug One jumped in the audience, the energy in the room reached its peak. After the show I spoke to Plug One about the group's relationship with J Dilla and their upcoming projects.

SoulBounce: What made you participate in this year's J Dilla tribute?

Plug One: For us, JD's music was a very instrumental part of where we were going. You know, we were blessed to be around since '88, and by the time we got to our Stakes is High album you know we had a lot of questions on should we still be here, will people want to listen to what we're doing? You know we were no longer 18-year-old boys, we had kids and like I said, the introduction of using that track that we did for our album Stakes is High, it opened up our mind, it opened up a new understanding. So that relationship we built from that one track with [J Dilla], and already of course knowing Slum Village and other stuff he was doing, it was just a no-brainer to add him to what we did. So unfortunately with us losing him, you know, anything I feel that's needed to keep his name alive and people understanding what music is and how it should go and feel, we're always gonna be a part of that for him. Always.

SB: I notice that a lot of artists still talk about J Dilla as if he's still here, why do you think that is?

PO: I mean even just long afterwards it's hard to really grasp sometimes. I mean sometimes you feel like, at least as I look at it, as a war of good music and bad music. And you'll have these great groups, whether it's Tribe, Fugees, all these people break up and we need that energy to add a balance. And one of our great, amazing generals like Dilla, we lost him and we needed that balance to add on to what's going on now.

SB: And you guys mentioned you have a new album coming out, and J Dilla was the kick starter for the other ones, what makes this one different besides his absence?

PO: I mean that's a big part of it, I mean just having him to give us that music that really spoke to us and it even made us have to get back on our game and get back in the lab and put beats together ourselves. We have a lot of great stuff already on the side, but we have our 25th anniversary for 3 Feet High and Rising coming up so we're looking to put out like a lot of new music going into next year and we're about to just drop a couple of different singles now. So we're gonna do it. We actually have like maybe two joints from him that no one's heard so we're looking to give that to the world as well.
- Advertisement -

SB: And if you could choose one word, I know it's hard, to describe J Dilla and his legacy what would that be?

PO: I mean for a lack of a corny way of saying it -- legendary.
- Advertisement -
Legendary indeed. Look out for De La Soul's new album You're Welcome in late fall.
[Photo: Nocturnal Charm Media courtesy of Gypsy Soul Entertainment]
- Advertisement -
- Advertisement -