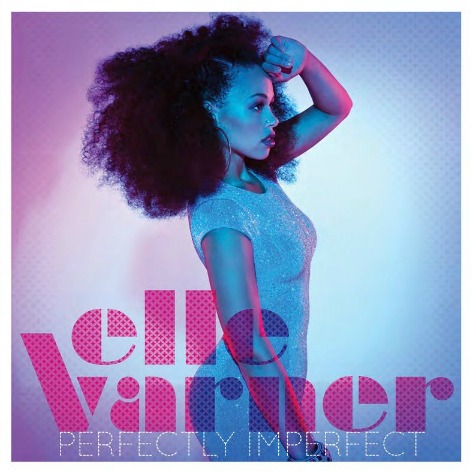 The past year has been good to
Gabrielle Varner
, better known to us as
Elle Varner
. In August 2011, she gave us our first taste of her special brand of rasp with the "Make the Music With Your Mouth Biz"-sampled
"Only Wanna Give it to You"
featuring an appearance by college acquaintance
J. Cole
. With its old-school feel and youthful energy, it easily became a favorite at SBHQ. Then in January, she hit us with her well-received mixtape,
Conversational Lush
, after dropping the intoxicating, fiddle laden
"Refill."
With all of the buzz surrounding the quirky new girl on the block, expectations were high for her freshman release,
Perfectly Imperfect
.
Center
Having watched her parents struggle for recognition in the music industry, Elle grew up with a perspective that many artists aren't privy to until their own careers are put to the test. That experience could explain why she seems to have so much control over her content as a brand new artist. In fact, the entire album is a sort of family affair. Track after track, vocal production is credited to "The Varners," and Elle co-wrote every one of them. But, before she was a "conversational lush," she attended the Clive Davis Department of Recorded Music at NYU. At the time, she was about thirty pounds heavier and not really feeling the love from the opposite sex. Not content just being "Damn Good Friends," she wrote songs like "So Fly" and the sweetly comedic "Not Tonight," one of the album's standouts. As she wistfully sings about wanting to make a move on a guy she's been digging, you find yourself wanting to will her into action. Your efforts would be of no use because her mind is set; she doesn't have the courage to make it happen, at least not tonight.
Varner knows herself well and uses her husky, textured voice to round off a sound that's distinctively hers. "I Don't Care," a throw caution to the wind jam, is one of the songs on which it works especially well. Through her lyrics, you learn that this is a woman who is very self-aware, almost to a fault. Although she does her share of pointing out her flaws and all, every now and then she steps out of the shadows and lets it all hang out. Steady shots of Patron made for one wild night in Miami, a true story vividly retold in the bouncing "Oh What A Night." On the soul-rock influenced "Sound Proof Room," Elle is ready to try a few things that she's been dreaming up for the moment she gets her paws on her guy singing, "want you to demonstrate your physical advantage, am I sounding like a savage?" Not even having her mom, Mikelyn Roderick, singing background vocals on the song is enough to derail her freaky plans.
My personal favorite, "Stop the Clock," doesn't sound quite like anything else out right now with its generous use of stringed instruments and a variety of horns. Ms. Varner delves into a painful relationship reality urgently singing, "Your smoke and mirrors blinded me from the real truth/Though I'm never getting back the years I wasted, I've got forever to never see you again." Just when you think the song has come to an end, it fades back in for a final round.
Elle Varner's vocals aren't perfect, but to expect perfection would be to completely miss the point. I admit that I missed the mark on my first listen. Nice singles coupled with shaky televised performances left me unsure of what to expect from her. The lyrics were on point and the music sounded good, but her gravelly delivery grew off-putting over the course of a few songs. At times, her voice seemed to weaken and screech when it should've soared. Like the hiss, crackle and pop of an old record, Elle's voice is not shiny and clean, but it's almost for those very reasons you want to keep it around, and is part of the reason why I had to give the album another spin. Her vocal imperfections lend character to her material, and is her distinguishing factor. Besides that, I couldn't get the infectious refrains from "Stop the Clock" out of my head.
Perfectly Imperfect is a great album in spite of what it's lacking because of what Elle delivers. One can only hope that as her star rises, and it surely will, she'll be able to retain the perspective and vulnerability that made this first album such a compelling listen.
Elle Varner Perfectly Imperfect [Amazon][iTunes]
- Advertisement -