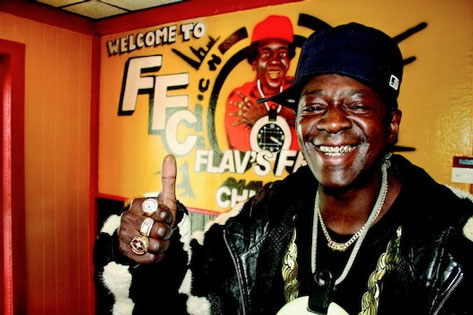 We are human beings. We can't live on sunshine or music alone. There are basic needs every human has;
according to
Maslow
's hierarchy of needs, physiological needs come first (food, water, breathing, sex,
and sleep), followed by safety, followed by love and belonging, followed by esteem, followed by "self-
actualization." And let's face it, the world we live in assumes that the first level is always met, that we
already are starting off with all the food, water, sex, and sleep that we need. And that assumption is just
flat out
wrong
.
Center
There used to be a time, when musicians diversified outside of music (but not outside of their creative
purview) and fed people both aurally and literally. Gladys Knight gets her coin as a restaurateur, and
Patti LaBelle is the cookbook queen and makes sure to offer savory recipes for those who struggle with
"the sugars." Outside of Flava Flav's fried chicken adventures, who in music is really putting their music
where their mouth is? Where are the soul food entrepreneurs?
Let's enumerate the hip-hop equivalents. There's Sean "Diddy" Combs who has the restaurant Justin's
named for his son, and Jay-Z who is part owner of the Spotted Pig. Which is great, but do you really
believe that they can throw down in the kitchen? Could you imagine getting a pig foot at the Spotted Pig
and feeling comfortable with the "clientele"? I know I wouldn't. I want my musical food operators to be
able to burn in the kitchen and blow on the microphone.
Let's think about this for a second: if our current roster of soul and hip hop artists were to helm the
kitchen and sling hash like a pro, what would they serve? Just off top, Badu is giving vegan-granola-
green salad realness; Elle Varner would serve her culinary wares from a hip food truck, offering
something filling and different, but not too off the beaten path; the Robert Glasper Experiment would
definitely run a lounge/restaurant, and Big K.R.I.T is giving me a distinct wings and cornbread vibe. For
gumbo I would go to Ledisi's galley (robust flavors and extremely hearty). Who would serve the Best
all American dishes with a European twist (The Foreign Exchange)? Who owns the candy store (Nicki
Minaj)?
Right now the only musician I trust with my food is The Roots' Questlove, who is embarking on a chicken
wing food truck in NYC. But is there no one else who can throw down on the 1's and 2's as well as the
pots and pans? Because a sister is hungry.