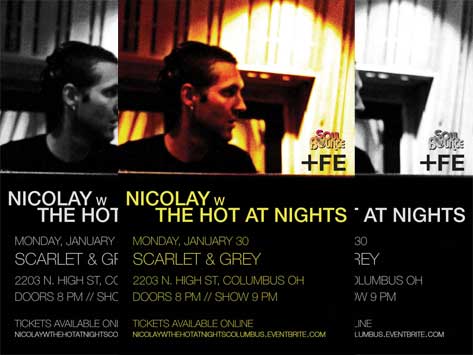 Nicolay with The Hot At Nights
start their tour this week, but this time next week they'll be gearing up for a show in Columbus, OH.
Chris Boerner
,
Matt Douglas
,
Nick Baglio
, and the man Nicolay will be performing at the
Scarlet & Grey
on
Monday, January 30th
. We'll get to hear all the positive buzz about the shows in a matter of days, but we don't need rave reviews to know that Nic and the fellas are going to put on great shows. To ensure that you don't miss out, tickets can be purchased online via
Eventbrite
. But you already know what time it is, we have a sweet pair of tix up for grabs courtesy of FE Music. If you wanna go, then just enter to win after the bounce.
Center
To enter the SoulBounce/FE Music Nicolay with The Hot At Nights Columbus Concert Ticket Giveaway:
Enter your COMPLETE NAME, EMAIL ADDRESS, MOBILE PHONE NUMBER, and ZIP CODE into the form below.
Entries will only be accepted between the hours of 7 pm on Monday, 1/23 until 12 noon on Friday, 1/27.
One entry per person.
If you have won a contest/giveaway from SoulBounce in the past 30 days, you are ineligible to enter.
All entries that do not adhere to the above stated guidelines will be disqualified.
Entrants must be in the Columbus area or vicinity and available to attend a show at Scarlet & Grey located at 2203 N. High Street on Monday, 1/30 at 9 pm (doors open at 8 pm).
One winner will be chosen at random from all eligible entrants on Friday, 1/27 to receive a pair of complimentary tickets to the show.
The winner will be notified by email and/or mobile phone by Friday, 1/27 and provided with further details.
Thanks for participating and good luck!