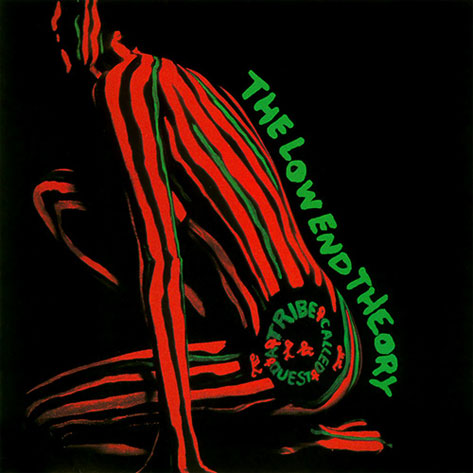 It's only fitting that we close out our
Class of 1991
series with a question for the ages: Which is
A Tribe Called Quest
's best album,
The Low End Theory
or
Midnight Marauders
? Both have their strong points and classic material, but it's an argument that everyone who loves real hip hop has had several times over and one that never has a clear answer. Well, let me break it down for you so that it will forever and always be broke:
The Low End Theory
is
ATCQ's finest moment. Period. Giving the proverbial finger to any notion that Tribe would fall victim to the dreaded sophomore jinx,
Q-Tip
,
Phife Dawg
, and
Ali Shaheed Muhammad
took the original formula of
People's Instinctive Travels and the Paths of Rhythm
and tightened and refined it to an undeniable science.
Center
From the opening upright bass lead-in to "Excursions" to the raucous and rowdy "Scenario," TLET weaves an intricate dance between pensive jazz and R&B samples and the head-nodding rhymes of Tip and Phife. Where the samples on People's were more in your face and really just loops (exquisitely picked and well-used loops, mind you), this album was damn near bare bones in comparison. While they still sampled and looped everyone from Miles Davis to Sly and the Family Stone, this go around they relied more heavily on bass, hence "the low end." The familiarity of the sampled songs seemed to be mostly there for ornamentation, accentuating the bass instead of being the main attraction. Put in another way, this joint was made to knock whether it be in headphones, via stereo, or through the woofers in the trunk of your car.
That shake of the bass was felt throughout as the boys from Queens held class on a myriad of topics. They informed you of exactly how fly they were ("Check the Rhime," "Jazz (We've Got)), industry politics ("Show Business"), consumerism ("Skypager"), and gender and sexual politics ("Infamous Date Rape"). All of these topics were mere fodder for their wicked wordplay. In fact, this was also the album that truly found Tip and Phife's chemistry at its highest. In fact, the talented twosome have never seemed more in sync than they did on The Low End Theory.
Phife also finally came into his own here. Whereas Tip got a lot of the time and the shine on People's, TLET seemed to be Phife's coming out party. His "Microphone check/1, 2 what is this?" on the set's second track "Buggin' Out" is still considered one of hip-hop's hardest opening lines. And don't get me started on "Butter." Anchored almost solely by Phife (Q-Tip only appears on the track's chorus), he kicks knowledge about why exactly he's just smooth like that when it comes to women. Overall, it silenced all those that thought that Tribe was just the Q-Tip show and showed that Phife was a formidable MC in his own right.
Of course, no discussion of the album would be complete without speaking on the musical monsters that are "Check the Rhime" and "Scenario." "Check," which tossed the likes of Minnie Riperton, Average White Band, Grover Washington, Jr and The Steve Miller Band into a musical blender, was the album's lead single and did its job quite well. Jam-packed with hip-hop quotables (don't believe me? Just ask someone what Industry Rule #4080 is), it signaled that this album was going to give the people exactly what they expected and much, much more. "Scenario" was the last single released from TLET and served to be one of the ultimate posse cuts of all time. Perhaps what it'll always be remembered for, though, is propelling Leaders of the New School member Busta Rhymes with his career defining and spotlight stealing verse where he roared like a dungeon dragon into pop culture consciousness.
Make no mistake, if the Tribe ride had stopped at People's, we'd still be talking to this day about that talented one-hit wonder of a group that almost did something. However, The Low End Theory proved that these high school friends from Queens had a lot more going for them than quirkiness and jazz samples. With this album, A Tribe Called Quest cemented their place in musical history and carved out a place for those who couldn't identify with the harder, more gangster edge that rap music was taking. Of course, there are those who will disagree with my assertion that this is truly Tribe's best, and we can definitely discuss that...
...when Midnight Marauders is picked for SoulBounce's Class of 1993.
- Advertisement -
A Tribe Called Quest The Low End Theory [Amazon][iTunes][Spotify]
- Advertisement -